"What's wrong Injun? You look like you just got word your favorite whore (that, being me) had died?" Lic Mee asked, but Tommy just focused on the telegraph. He had served Sheriff Geiger under duress, because the late Sheriff knew he was a wanted man. All that ended when he helped Lil and her girls end the sheriff's career and life. He now had a life beyond his wildest expectations and grew angry at the thought of losing it. He grabbed Lic Mee's hand and started for the whorehouse at a quickened pace. "Hey, quit pulling me unless you want to pick me up off the ground." She said.
"I need to talk to Lil, we have a new problem that may upset our applecart; so get a move on" he demanded.
When they got to the kitchen door of the house, he swung it open and found Lil, Rita and a couple of the girls having coffee and breakfast. The recently fucked Nell stood there with a coffee pot in her hand and lowered her eyes to avoid his when he came in. "Whoa sheriff, what's the hurry; we serve breakfast for a while." Rita said.
The sheriff ignored her and looked at Lil, "We have a problem and need to talk" he said.
"Alright sheriff, let me get my coffee and we can go to my office. I think we can solve any problem you or we might have there" Lil said. She turned and saw Lic Mee scowling.
"Don't worry my pet, I won't solve any problem he might have sexually; I'll leave that to you." Lil got a cup of coffee and led the acting sheriff down the hall to her office. She sat behind her formidable oak desk, while Tommy pulled up a chair. "So what is it that has you on edge this beautiful Sunday morning?" Tommy handed the telegraph to Lil and watched her smile fade; she too knew of the complications that a new Sheriff and Under Sheriff would create and wasn't ready to see her empire fade. "Do you have any idea who they might send?" Tommy just shook his head.
"It could be anybody; this is political and Geiger had a lot of clout. Hell he's the reason Lincoln County exists at all; he made it happen when he was in the State Senate, so he could have his own little empire. They could appoint a stooge for the mining operation, or even one of the timber baron's men; there are some high rollers that would love to control this part of the state. Funny thing is I can't think of another Sheriff or Under Sheriff that wants to be in this part of the state; it's too far from the real action like around Helena or Butte" Tommy sat there shaking his head. "We've literally gotten away with murder, blackmail and a couple of other felonies Lil; this could really fuck us up!"
"Well until we know what cards we'll be dealt, it's better just to hold and not do anything. I think I'll write to Senator McElmurry and see what he can do; I'll even put in a plug for you based on your performance to date. Now go have Nell warm up some coffee and fix you something to eat." Lil showed Tommy the door and then said "You just tell her what you want and she'll get it for you" Though pre-occupied with the dread of a new sheriff, Tommy couldn't help but think of Nell naked on a plate, legs spread and her cunt wet.
"Sure Lil whatever you say" was his response as he left the room. When he returned to the kitchen he found himself alone with Nell. She lowered her eyes as he approached. "Where did Lic Mee and Rita go?" he asked, not wanting to get caught with his hand in the cookie jar or Nell's wet cunt.
"Rita went down to the dry goods store and Lic Mee went to her room. I was told to send you up when you were finished down here" Nell kept her eyes lowered until Tommy lifted her chin with his finger.
"Well Lil told me I could have anything I wanted" he said smiling, "Guess what I want?" The girl blushed and then slowly lifted her skirt until he saw her naked cunt. She liked the feeling of air rushing up the crinoline petty coats to cool her hot moist crotch. When he saw that she had no pantaloons on he came forward and extended his hand until he entered her cunt. He backed her into the pantry and began fucking her with his fingers. He knew she would scream so one hand was pressed against her mouth. He fingered her cunt while rubbing her clit with his thumb; it was hard and rough, but the poor girl surrendered to her desires and as her knees buckled bringing her down on his hand, she came and then came again.
Once she was able to stand; he withdrew his cum soaked fingers and tasted her creamy cum. Then he took her by the back of the head and kissed her hard. Nell experienced something different. Sex was sex and she had conditioned herself to be detached as she was fondled by her father and even that morning when Tommy fucked her and she felt new delights; she still imagined it was just a man having sex. But a kiss was intimate and implied love or being loving. Tommy had given her, her first kiss and it meant more to her than he knew; she was falling in love with him. He took his mouth from hers and tasted his fingers once again. "I'd rather drink from your cunt Nell, but will have to settle for coffee. You straighten yourself up and I'll go was up." He told her as he left the pantry. Nell could feel her cum on her thighs and dried in on her petticoats. When she felt she was ready she exited the pantry and found Lil standing in the kitchen.
"What were you doing in there Nell?" Lil asked. The girl explained she was checking supplies and waiting for the sheriff to figure out what he wanted. "And where is the Sheriff?" She asked. Nell told her he had gone to the bathroom after he had left her office and had said he wanted coffee as he passed her in the kitchen.
"I didn't think I should disturb him while he was doing his business" Nell added. Lil felt she was holding something back, but accepted what she had said. "Miss Lic Mee wants him upstairs when he gets done down here" she added and Lil nodded.
"I swear that girl is going to ride that poor man to death" Lil said
"What girl and what poor man; sounds like a pleasant way to go to me" Tommy announced on his entry back into the kitchen.
"Lic Mee and you" Lil said, "Just leave her enough energy to handle the paying customers is all I ask. You're like a 500lb man at a free lunch, leave something for the rest of Libby's male population, OK" The sheriff took his coffee, nodded his head and went upstairs.
When he entered Lic Mee's room he found her naked on the bed with the shades drawn and the gas light on casting a glow on her body. Her eyes moved in his direction and she said, "If Lil hasn't worn you out solving your "non-sexual" problems, I'd suggest you get naked and get in this bed."
"Lil and I were talking about what we're going to do about a new Sheriff and Under-Sheriff. They are talking about replacing me with their own men and that can be a problem for all of us. Besides Lil isn't my type. I like your Asian pussy, though I must admit; an hour after we quit fucking I'm hungry all over again." Once he said that; Tommy got undressed and laid down next to the now semi-angry whore. He reached for her and she moved back.
"If my cunt doesn't fill you, then maybe you should go stick that Injun cock in Mountain Marge; I'm sure her 250 pound body can satisfy your whole tribe. Shit with those breast she could probably feed your whole tribe." Lic Mee had seen Marge naked atop some poor scrawny miner and the poor guy had to be rescued from her cunt. She imagined Tommy pinned under the large woman while her 44DD breast smothered him and she smiled.
"Nah sugar, your spicy Asian cunt and tight ass are all this Indian needs. I just meant I can't get enough of you and that I am always hungry for more, but Lil has told me that I can't wear you out; that you got to handle the paying customers. Now be a good girl and let me dip my cock in your fortune cookie." Tommy Two-Tongues knew how to get what he wanted, whether through the truth or a lie. Lic Mee put her arm over him and pulled him close enough to feel his erection. She reached down and started stroking it. He felt her tight grip and said "Be careful you might break it"
Lic Mee looked at him and said, "If I ever find you've fucked someone else including Marge, I'll do more than break it!" She took the stiff cock and guided it into her already wet cunt. They laid down on their sides fucking and kissing and then he rolled onto his back so she could ride him while he squeezed her breast and played with her nipples. She became lost in the motion as she rode him like a horse; first a slow rocking motion and then a full gallop. When he thrust his hips up, she felt the pressure and came. In an instant she was on her back, taking his hard thrust over and over again; she came yet again. He had stamina, because he had fucked Nell in the morning and had already fucked Lic Mee earlier; he hadn't enough giz to make cumming worthwhile. He just kept her climaxing until they were exhausted and then faked his orgasm, by tensing his body and tightening his cock then relaxing it with a sigh. He laid next to her limp, hot sweating body and drifted off to sleep.
He awoke when he felt lips on his cock. He laid there with his eyes closed, imagining Lic Mee sucking, trying to revive him. When he opened his eyes he saw that it was Nell, not Lic Mee and he panicked. "What are you doing, if Lic Mee discovers you we'll both be killed."
The girl put her finger to her mouth and said, "I saw her go into the bathroom after I filled her tub; it will be a while before she comes out and I thought you'd like to wake up to my lips on your cock."
"You just startled me. If she's going to be a while, then I want your pussy lips on my cock. The girl climbed up and straddled his hips just as Lic Mee had. Her petticoats hid the fact that he was in her as she began to ride him. That exquisite feeling filled her again as she came on him, he placed his hands on her waist and began pulling her down faster as he felt the pressure in his cock grow. Nell let out a cry just before he came and he clamped his hand over her mouth.
That cry occurred, just as Rita was returning to her room. She assumed Lic Mee and Tommy were at it again and gave it no thought until she entered the bathroom and found Lic Mee soaking in the tub. When she realized that someone else was in Lic Mee's room she said "Sorry" and left the room. She went to her own room and stood with the door opened just a crack so she could watch the hall. It wasn't too long before Nell exited Lic Mee's room and headed down the stairs. When Tommy came out he was wearing a towel and went to the room where Lic Mee was bathing.
"I need to go, let me borrow your washcloth so I can clean myself off" he said.
Lic Mee grabbed his flaccid cock and pulled him close. "Let me do it with my tongue" she suggested, but he pulled back worried that she would smell or taste the foreign cum on him.
"No, if you do that we'll never get out of here and Lil will skin me for taking too much time with you. I'll just clean up at the office" it was the perfect excuse he thought; while she was wondering why he was so worried about Lil. Tommy gave Lic Mee a quick kiss and headed for the door. By the time she was out of the tub, and dried enough to put on her robe; she found him gone. She viewed her bed and the cum stain in the middle. She hadn't remembers either of them cumming enough to create a stain that large, but then again he was fucking her while she was semi-conscious. She rang the bell for Nell, and when the girl arrived directed her to make the bed fresh and wash the linen that was on it.
Nell took the sheets off the bed and went to her room, then she found clean sheets for Lic Mee's bed. Once her chore was completed she returned to her room and the sheets that contained the cum of he and her lover (well it did have some of the whores on it too, but she knew the cum of her lover and her own ejaculate had created the larger stain.
Rita was torn; she had witnessed the infidelity of Tommy Two-tongues and Nell and didn't know what to do. Lic Mee was like a sister and Nell had been taken into Lil's protected custody. She knew that exposing this to Lic Mee or Lil would mean trouble, but she also knew both women should know. When the girls had their supper they laughed and exchanged bawdy tales about the men they had known. They laughed at how most (of the men) thought they were great lovers with larger than average cocks, but were instead mediocre with average to small cocks. The women prided themselves on how well they could fake an orgasm well enough to fool any man, thus keeping the poor male's ego in tact. Lic Mee revealed that she never had to fake an orgasm with Tommy and that he really was a fantastic lover, though as late seemed to be a bit more tired than usual. Rita saw an opportunity, but decided to wait until she, Lic Mee and Lil were alone.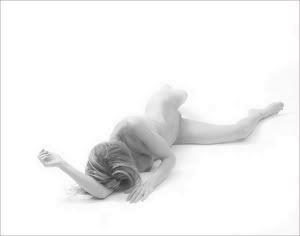 On Monday Tommy once again snuck into Nell's room. This time the lamp was already lit and Nell was prepared. When he entered the room she opened her legs and began rubbing her clit. Tommy watched as she aroused herself and brought herself to climax. He watched as her cunt opened and she slid her fingers in just as he had and pulled her juices deep from inside. He was hard and trying to take off his clothes as she had yet another climax. Once he was undressed he went to her bed and took her fingers in his mouth to suck the sweet juice from them while replacing them with his own in her open pussy. She came immediately as he pushed his larger hand in and then her curled his thumb into his palm and curled the other outstretched appendages around it. He gently pushed it in and pulled it out; each time pushing further in. She felt pain and pleasure as his knuckles rubbed against her pelvis bone. She was ejaculating when he pushed them beyond the pelvic bone so that his hand was entirely in her. She started to cry out and Tommy threw his free hand over her mouth. "You want it deeper don't you?" he whispered as he continued to fist her cunt. The girls eyes widened and she nodded her head just as another climax hit her hard. She was in a state of shear pleasure, unlike anything she had felt before. He continued to fist her until she was close to unconsciousness or as we now say sub-space. Her entire being responded to her climaxes and his touch.
When he removed her hand she was almost inaudible. She was muttering "fuck me, please fuck me hard" He removed his hand and it was as if he had uncorked a Champaign bottle as her cum rushed out and onto the bed. He spread her limp legs and his cock slid effortlessly into her gaping hole. He fucked her as she had requested and fucked her hard until they both came. He laid on top of her body as she laid there with eyes closed, whispering "Thank you, thank you, thank you…I am yours" It was that remark that sent a chill through him.
"You are mine, only when I am with you. You can not make this greater than it is; we are merely having a good time and that is all. If Lic Mee finds out I fear what she will do to each of us." He told her. "I must go before the house wakes up" He said as he grabbed his pants socks and boots. Once dressed, he opened the door and after blowing her a kiss was gone.
She watched him leave and then slid her body out of bed. She knelt on the floor at the bed's edge and put her face in the musky wet spot on the sheets. She brought the sheet to her mouth to taste the cum and drifted off to memories of her lover's taste and scent. About an hour later there was a hard knock at the door. "Nell, are you awake, it's time to get the coffee on." It was Lil.
"Yes Mam, I just fell back asleep, but I'll be right out" she said as she threw the spread over the stained sheets. She put on a nightgown and washed her face at the basin on the dresser. Once she was sure there was no trace or scent of cum she had fallen asleep in she darted out the door and into the kitchen. Lil was seated at the table.
"Are you feeling alright, that's two days in a row that you've over slept. I'll get you an alarm clock so it doesn't become a ritual. Now get the stove lit, and make some coffee, I've got a busy day" Lil watched the girl as she tried to focus on her work. There was something wrong and she wanted to know what it was. While the coffee was being made Nell went to her room and gave herself a sponge bath to eliminate the rest of her lover's cum. She dressed and emerged in time to rescue the coffee from boiling over. Then she put buckets of water on the stove to prepare the baths for the other women. By 8 the whores started showing up at the breakfast table. By 9 she had fed them and prepared baths for each. She then gathered the linen and washed all the sheets and made all the beds. The whole time she worked, she thought of nothing else, but her lover's cock.
When Lil had finished bathing and dressing she made the rounds of her holdings. Her bartender showed her the night's take and she checked the registry of the hotel to see if there were any notables in town. As she went down the list she saw a name that made her heart lodge in her throat; it was Kenneth Dougherty, Chief of the Seattle Police Department. She didn't hesitate, but went straight to Tommy's office. He too had gone back to bed and was startled by the pounding on the office door. He unlocked it and Lil pushed her way in and drew the shades. "We have another problem! The Police Chief from Seattle is here and he knows us. I want you to go to the hotel and wait until he comes down and then find out why he's here. Do you understand?" Tommy was half asleep but knew the gravity of the situation. He washed his face and put on his only suit; placing his badge prominently on his lapel. Lil slipped out the back door as he went to the hotel.
Tommy waited in the lobby of the hotel. He had already given the desk clerk instructions to notify him when the police chief came down and he didn't have long to wait. Chief Dougherty was a very big man and came down the stairs just after 10. Tommy got the signal from the desk clerk and approached the Chief. "Excuse me Chief Dougherty?" he asked as the man turned around. The Chief looked at Tommy and saw the badge.
"Well you seem to be on top of things around here, I just arrived late last night and already have a welcoming committee. Looks like no grass grows under your feet son" The Chiefs voice was almost patronizing and Tommy knew this man was not his friend, though he eagerly accepted the Chief's outstretched hand. Tommy wanted to tell him who his real father was, but knew that would be a mistake as would referring to the Chief as "dad" so he smirked and let it go.
"I try to keep tabs on those who come and go from Libby. The former Sheriff taught me to keep an eye out for trouble; which makes me wonder why you're here Chief. Are you looking for someone or just visiting our little community." Tommy was direct and to the point; it gave him an edge, besides he hated cat and mouse games.
"Looks peaceful enough here alright, so you must be doing a good job. I'm here because I am being considered for the Sheriff's position. I've been the Chief of a large department and the Governor thinks I might like being the Sheriff of Lincoln County. You got his telegram telling you they were looking…right?" The Chief looked at Tommy and he nodded. "This being the County seat and all, I expect to be around a lot while my deputies patrol the rest of the county. I'd like to take a walk around the town and meet some of the folks here. Like I said it looks pretty damn quiet so I suppose I might be doing some fishing too, so you can show me some good holes too…right?" The Chief was trying to be intimidating and was acting as if he already had the job; Tommy nodded.
"Chief, I'll introduce you to all of the town's people, but please don't make me reveal my fishing holes" Tommy said in a serious tone and then broke into a smile. "I can take you to our Mayor, the paper office and to the heads of several community groups. We can meet again for supper tonight at the Lost Paradise they have a good meal and entertainment. They also have some pretty special women if you're interested." Tommy had already decided the Chief was a dead man.
"Son if you mean "whores", I can see we'll get along fine. Besides one hole is as good as another when you're dropping that line in it…right" Tommy nodded. He took the Chief to the Mayor's office and told the Mayor the Chief was considering relocating, but did not tell him it was to become the new Sheriff. Funny thing was it never came up in conversation either. The Mayor was one of Rita's regulars and so he said nothing about the soiled doves; instead he focused on the mining, the growth and the more positive changes that had been occurring.
After the Mayor's meeting they met at the Libby Café for lunch. The food was good and the Chief packed away quite a bit. When lunch was over it was almost 2:30. The Chief opted for a nap and then they could go see the editor of the Westerner (the local paper), there wasn't much going on that he didn't know about; at least that's what Tommy told him.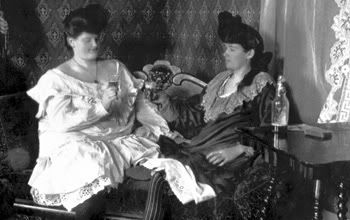 The editor was also a client of Lil's, he liked larger women so was often found in the company of Mountain Marge and Dolly D. After dropping the Chief at the hotel, Tommy visited the editor's and told him that he was bringing a potential developer by. He made sure that there was to be no talk of whore houses or the women that ran them.
He then went back to the "House" to give Lil the bad news and a way out. He told her that the Chief was to be his replacement which would mean hanging for them all or worse yet that another Geiger like arrangement would be offered in which Lil and the girls would lose everything and end up growing old working for the new Sheriff. It hadn't been acceptable when Geiger suggested it and was even less acceptable now. Tommy told Lil that he would take the Chief to the newspaper and then to supper at the Lost Paradise. Lil paled. He told her that while the Chief was out she could go pack his bags and take them to the dungeon beneath the hotel. She would remove that page from the hotel's guest book and erase any indication that Ken Dougherty had ever been there. Then later he would take him down to the dungeon under the Lost Paradise; Sheriff Geiger had dispatched a number of men from that room without a shot being heard. Lil agreed that he had to die and that the dungeon was the best place for it to happen, but she wanted herself, Lic Mee and Rita to be in on it; that bastard had abused them anytime he wanted and Lil's memory of their last encounter in the barn back in Seattle made her wince. Lil told Tommy to make sure he ate well and drank his fill, because this would be that condemned man's last supper.
Lil told Rita and Lic Mee about the Chief's presence in Libby. She told them in a matter of fact way that his elimination was required and her friends agreed. They went to the hotel as Tommy was walking the Chief into the editor's office. Tommy had suggested to the Chief, that he should not tell him about the Sheriff's job, because the editor might start doing background research and uncover skeletons in his closet. "We all have them chief" Tommy said and the chief agreed that there had been a scandal or two on his watch. So while Chief Dougherty was swapping lies with the editor, the women were erasing his recent past and stealing his gun. They removed it all to the dungeon room beneath the Hotel as Tommy had suggested and then moved through the tunnel to the room under the saloon. They lit the lamps and torches and tried to decide not only how they would do it but what to do with the body after they did it.
In the middle of this room was a bed on a carpet, they moved the bed to the corner and then began to roll up the carpet. It was then that they discovered a trap door even Tommy was unaware of. When it was opened they saw water. The trap door was over the aquifer that fed the resident's wells and it must have been Sheriff Geiger's way to eliminate victims. The stage was set. They went back to their home and broke out two more
of Geiger's pistols and made sure each gun in their arsenal was loaded. They went back to the saloon and entered through the back door. They watched from the back room as Dougherty ate and drank. The two men got up and the women went to the dungeon to await them.
Lil, Rita and Lic Mee stood in the dark tunnel between the two rooms. It was so quiet they could hear (or so thought) their hearts beating. The silence was broken by the men's voices. "This is a strange set up, if you ask me" Dougherty was saying.
Tommy laughed, "The thing is no one can hear us down here. A whore's cries or screams will only fall on deaf ears."
"Well I can see your point. I like to get a little rough and it could be embarrassing if someone investigated other than me. Why I can recall this little whore in Seattle that I fucking raped and sodomized in a barn in Seattle. When I drove my beef into her ass she screamed and I was afraid one of my men would show up. Damn thing about it was, she had just killed her Madame and her John and was escaping when I did her."
Lil stepped out of the shadows. "I didn't kill them you pig"
The startled Chief turned and saw Lil holding his own gun on him. "Why speak of the devil, but by my account you're dead"
"No Chief, you are" Lil said as she squeezed the trigger. The Chief had a bewildered look in his eye as the bullet passed through his vest and right lung. He tried to speak, but just then the other two women appeared.
"She's right" they said together and each squeezed off a round. One pierced his stomach and the other his hip. The Chief was lying on the ground; as blood trickled from his mouth he continued to try to speak. Only God knows what he was trying to say or what he was thinking when Tommy stood above him and pointed his .44 ca at his forehead.
Tommy looked into the dying man's eyes and just before he pulled the trigger said, "I ain't your son…right". The chief body was rolled through the trap door and disappeared into the black water beneath.
"You two go back to the house, while Tommy and I clean up here" Lic Mee said.
"My God woman, you are unbelievable" Lil said, "Good luck Tommy and you better be good or you may join the Chief"
Rita held her tongue, she wanted to tell, but knew this wasn't the time