Their lives were connected through their dreams. Every night, each in their own bed, waited for the arrival of sleep and that one who brought love, hope and satisfaction. They were past the point of being concerned that their sanity had left them. With each dream their was a physical manifestation. For each there was the stain associated with orgasms, but each believed that could occur with some nocturnal emission; it was the other manifestations that made them know they had touched and were touched by some one.
She had awakened that second night with the scratches and bite, he had awakened with the blood on his lips and the salty taste still there in his mouth. Over the ensuing months there were more marks; signs that rope was used to restrain her and that she could bite too. Each had explored all the possibilities and each had reached the same conclusion, that they were in a paranormal relationship and that it was all they needed to survive.
There were moments during her day that she could think about the previous night and all that occurred. She was a nurse and she had found that caring for those who were terminal gave her some comfort in this life. She had cared for many who had gone on, and understood the death process and the processing that survivors had to endure. "It's all part of life ," she thought, and "we will all experience it". When she was alone, she was stricken by the loneliness of those left behind; the widow whose 50 year marriage ended with his last breath and the husband whose light dimmed as his love closed her eyes. When alone she recounted how her love had just gone and lamented that her own death seemed distant, but that was before the dreams.
When the dreams started she was jolted into a new reality that was nothing short of surreal. They/he had awakened something inside of her. Hope was renewed and even though there was no sharing of a breakfast, no chitchat over pancakes; there was passion and desire and a feeling of satisfaction that she had never felt before. There was this magic in her life that was for her and him; a secret not to be shared with friends or family. The thought of it alone aroused her and during her break she would go to the rest room, enter a stall, lift her starched white uniform, lower her panties, and with eyes closed see his hand gliding over her stomach. Her legs would part as she saw his fingers begin to rub her excited clit. When she emerged, there was always that tell-tale smile on her lips.
Her days and nights had once again become orderly. Her life was (though odd to outsiders) perfect in every way. She never wanted for him because he was always a part of her, there whenever she closed her eyes. That perfect life experienced a ripple at 7:30 AM on a Monday morning. She arrived at the hospital and found an envelope attached to her time card. In the envelope was a letter from the Nursing Director, advising her that due to a low census cuts were being made. It went on to say that the Director and administration believed that she was an excellent nurse and did not want to lose her so they were promoting her to the position of "NIGHT CHARGE NURSE". She would receive a larger check and only have to work Mon-Fri. All she could think of was her lover, all she could imagine is losing him. The letter informed her that the change was immediate and that she should go home and report back for the 11-7 shift on the Coma Unit.
She left the hospital dazed. Instead of seeing a reward she felt as if she had just lost everything in life. She told herself, "If he is there for me when I sleep, then it will make no difference when I sleep" and then she prayed that she was right. She entered her apartment and tried to re-assimilate her life. Her body and biological clock were used to being up all day and sleeping at night, but now day was night and she only wanted to be in his arms. To expedite that end she popped a couple of mild sleep meds into her mouth and crawled under the blankets. She laid on her back legs spread and arms outstretched as usual and waited. She fell into a drugged sleep. He never came.
She awoke at 8PM, her mind was still a bit foggy from the meds. She realized she had slept uninterrupted and was heartbroken. "he didn't come " she sighed as she entered her shower.
She closed her eye's and called him, and there he was. She was in tears as she said, "I won't be there tonight, or any other night. You must come to me in the morning My Love" . He looked at her, touched a tear on her cheek and said "Soon My Love, and then now and forever". She opened her eyes and he was gone. She finished bathing, grabbed a bite to eat and put on the uniform she had worn that morning. She arrived on the unit at 10PM and began to listen to the report.
There were five patients on the Coma Unit, two were in comas due to trauma, two were patients who had CVA's (strokes) all of these were considered terminal in that their EEG's showed little brain activity. The fifth patient was a 42 y/o man who had attempted suicide after losing his lover. He had been brought into the emergency room in an unconscious state and they had lavaged his stomach and gotten all of the pills out but he never regained consciousness. His toxicology levels were normal as were all the other test; his EEG was normal with the exception of spiked activity during the night. He was being evaluated for a release to a psychiatric facility that would care for a patient in a catatonic coma. Having heard the report she said good night to the PM nurse and began reviewing the charts. Her night would be spent here among the living dead instead of in paradise with her phantom lover. Instead of feeling his body and smelling his musk, she would be bathing people who wouldn't even be aware of here touch, and inhaling in the rancor odors associated with a hospital room. As she evaluated this change in her life all she could wonder was "will he return".
She went to the med cabinet and prepared the injections and IV's that her patients required. Each had an IV tube for medication and all had Naso-gastric tubes for feedings. She could feel her madness growing; she wanted to scream. Her body was screaming, it was hungry and like a child intent on getting the pleasure it had become a custom to was becoming fidgety. She tended the patients in the first two rooms and then entered the last room that was occupied. In the bed was a man of about six feet and who was physically fit. She looked at his face and saw what only could be described as a rugged appearance; he had dark hair and was dark complected. "Hmm he looks Italian or European, definitely good looking", she thought. He hadn't been shaved in a couple of days so she felt it only right that she make him presentable for his evaluation. She returned to the nurses station for a razor and shaving gel. On the way back she picked up towels a couple of wash clothes and a new gown; "I might as well do a total bath, and then I can change his linen", she thought. "It's part of the job".
When she returned to his room she looked at his EEG monitor their was no spiking just normal activity. She raised his head and put a towel under it and over his shoulders. She unfastened the tie at the back of his gown and lowered it to reveal his chest. He was hairy but not in an obscene way. It was in a nice way with a patch of white in the middle of otherwise black hair.
She moistened the washcloth and rubbed it over his beard, then put some shaving gel in her palm and slowly drew it across his face. She didn't notice but the EEG spiked when her hand touched his face. She shaved him very carefully as not to nick his chiseled jaw. When done she took the wash cloth and wiped the remainder of gel from his face. She cupped her hand and brought it to his cheek admiring both the face and the quality of her work. "Very nice" she said in a low voice and once again the EEG showed a spike that went unnoticed.
"OK my friend, now for the rest of you", she mused as she rolled back the sheet and blanket. He had strong arms and legs even when relaxed the muscles were apparent. She lowered his gown to his waist and dipped the was cloth into the basin. She suds up his chest as she almost played with his hair, and then rinsed. She rolled him to the side with his face pressed against her waist so she could get to his back and then rolled him back when she had dried him. She draped the towel she had been using across his lap as she removed the gown and began washing his legs. She began rubbing his legs with another towel working her way up his body until once again she was back at his lap. As she tossed the towel on the floor she noticed the bulge under the on that covered his lap.
"Hmm that wasn't there before. I see you haven't completely vegetated and I must make sure that you are clean, so I will simply remove your towel and do what is necessary!". This explanation was uttered for the benefit of the patient, for everyone knew an unconscious patient can hear every word spoken. She slowly removed the towel revealing a very healthy male erection. She was both shocked and pleased to see a real male erection and mused that it was for her benefit. She took her wash cloth and began washing him; she cleaned both his cock and balls and when finished noticed that the erection had not gone away.
It was quiet on her unit; there were no other nurses or orderlies. There would be no food service workers and no lab worker until the early morning. She was alone and she was aware of his arousal. In some strange way her fixation on his stiffened cock was immobilizing her. She remembered every lecture she had heard which told her that to a nurse a body is a body. She knew how deplorable it was to take advantage of the disabled but those were her thoughts. She wanted him in her and could hear her lovers voice saying "Do it"; she was power less to resist.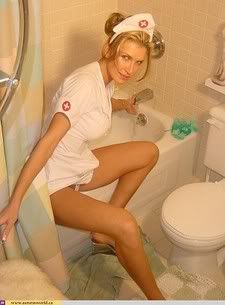 She went to the rest room and removed her panties and cut a hole in her pantyhose so if someone came she would appear dressed. She returned to his room to find that his erection was withering. "Take him", her lover's voice responded. So she drew the curtain around the bed and leaned over him. She took his freshly bathed cock in her mouth and began sucking; as she did she gently massaged his balls with her hand. The response was immediate as his flesh began to firm in her mouth. It felt good to her and she removed it to admire her work. She noticed the pre-cum at the tip and put her tongue to it. It was both sweet and salty and she kissed /sucked the opening until all was gone. Once again she began licking and sucking only now her hand was under her uniform rubbing her wetted clit.
When she knew that her wetness had well lubricated her pussy, she climbed up on the bed and straddled her patient. She steadied herself with one hand on his chest as she used her other to guide him into her. When the tip of his cock parted her labia she took her hand away and lowered herself down on it. He was perfect, he filled her. She made herself comfortable and opened her uniform to expose her bra. She undid the clasp between the two cups and let her breasts free. As she squeezed and played with her nipples she moved slowly around on him to get the deepest penetration and to feel his body against her clit. Before too long she felt a tightness just below her stomach and knew that her climax was coming. She threw her head back and with her hands squeezing her breast and pinching her nipples; she rode him. She rode him like a mechanical bull and as the ride became more violent she thrust herself down hard on his cock and felt herself cum. "Oh my God" she thought, "What have I done? This is wrong, its rape!" The thoughts came fast, but her sensitized clit allowed her to have little orgasms that came faster and he was still erect.
As she rocked back and forth on him she glanced up at the EEG monitor; it had recorded her "rape" with precision. There were many spikes where there had been none before. At first she was terrified that the monitor would out her activity, but then she remembered that he always spiked at night; "Wet dreams?", she mused. He was still like a missile inside of her and there was still time. She leaned forward and her nipple brushed his lips; as it did he made a sucking gesture. "Hmm it must be an auto response like that of a baby" she thought , but decided to test her theory. She brought her nipple to his mouth and was surpassed when he drew it in and began sucking. The nipple became erect in his mouth and very sensitive to her. She could feel herself become even more wet and began rocking again as he sucked.
She could feel him grow in her and it felt as if he was responding to her rhythm. She rocked and he sucked she felt another orgasm as it made its presence known in her belly and she felt his cock begin to swell to a point of exploding. It was as if the room was spinning, every nerve in her body responded as he came. It was as if the fluid had been building up for months and someone opened the relief valve. He gushed inside of her with an unbelievable force and she responded in kind. This was unlike any orgasm she had ever experienced it was beyond her control like a flood gate had been opened. It went on forever.
When she finally reentered her body, she removed her nipple from his mouth. She sat on top of him and was aware of two things; the first was that his penis was becoming smaller, the second was that it had been holding back the river in her that was beginning to flow down her thighs and over his waist. She sighed deeply and thought, "All good things, must cum to an end". She slowly dismounted her ride trying to keep the fluids from touching her uniform. Once on the floor she again observed him, his expression was one of peaceful contentment. She took a towel and brought it up between her legs to both dry herself and catch the remaining cum. When she was done she brought it close to her nose and instantly recognized the sweet smell of sex all over it. She looked down at his now flaccid cock and the remaining semen that was trickling out. "Waste not, want not", mom always said." she thought as she picked up his cock and drew it into her mouth. His cum was sweet and familiar.
as she sucked the remnants of his love she took the soapy wash cloth and washed the waste from his hips. When both task were complete she put a fresh gown on him and changed his bed. Before she drew the curtain back she leaned over him once again and brought her mouth (still wet with their love) to his and kissed him. "Thank you", she said and turned to walk away. She had no sooner turned when she heard a familiar voice say, "Now and forever my love". She turned to see her dream materialize before her. His blue eyes shined as he smiled at her. Now that you have awakened me I am your's. All she could do was return to the bed and take him in her arms.
That morning the hospital became a buzz about the miracle that had occurred in the Coma Unit. The doctors were dumbfounded; there was no explanation and nothing the nurse or patient said added any insight. They kept him for three more days under observation. Each night she returned and their passion was expressed in the quiet of his room. On the forth day he was released and to the dismay of the hospital she quit. No one knows what happened to them, they were never seen again.