The Face/Head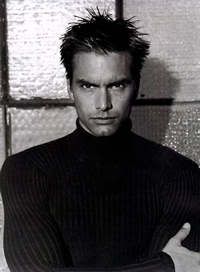 Of all the men she had known, there was one whose face captivated her. His eyes were almost green and at times were. His smile revealed perfectly white teeth rested between full lips. His nose was so perfect that she often thought it must have been the product of plastic surgery, but he swore it wasn't. His hair was a dark brown and he wore it long, but styled in a way that made it frame his face in the perfect manner. There was one other aspect of his head that made it the perfect choice; his tongue.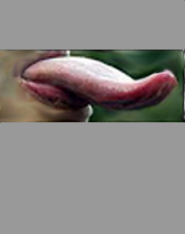 They were together for several months dating off and on. She had discovered that he was not the most loyal lover and was more enchanted with himself than any woman. She had experienced his cock, which will be explained, but it was that fantastic tongue and the things that he could do with it that kept her coming back. There were in fact days that she could not understand how he could control it to talk; it seemed to be longer and thicker than most, but then again that was her perception and was jaded by the climaxes she experienced as a result of it.
Their first meeting had been in a book store. She had gone to the poetry section and he was standing there flipping through the pages of a book by some obscure poet whose name he had mentioned but that she had soon forgot. She could not remember because she had been looking into those brilliant eyes and watching his lips move and paying absolutely no attention to the words coming out of it. He wasn't very tall, in fact he was a little shorter than her but the fullness of his hair compensated giving the illusion of height. When she had completed her inventory of his exterior, her focus became fixed on what he was saying.
He had talked about the obscure poet and his writing style, and told her that he too aspired to be a writer. He was it seemed pretty taken with himself and his abilities with the written word. When she said, that she too wanted to be a writer, he responded with "Maybe I can help you". "Grrrrrr", she thought; "impudent little troll, what nerve". Then he smiled. "Maybe, he didn't mean it the way I heard it", she consoled herself and smiled back. If he was a woman, he would be "beautiful", but the word handsome seemed somehow not to fit, "He is a beautiful man", she thought.
He asked her out after that first meeting and she agreed. They would go to a little "Bistro" (as he put it) and get to know each other. The night of the date came and she spent a full 2 hours, picking the right dress, the right nail polish, the right lipstick color and fixing her hair. She would be considered stunning to anyone and when she enter the "Bistro" every male eye followed her, along with several female eyes (that viewed her as either deadly competition or a lovely lesbian tryst). She saw him at a table in the corner with his beautiful nose in a book, she sashayed over to him (accentuating every movement of her hips for the noted on-lookers). When she got to the table he looked up, smiled and said "Hi", then returned to his book briefly, dog eared the page and stuck it in his tote bag. He looked at her again and said, "have a seat, I think you'll like this place. I come here all of the time, everyone knows my name"
She sat as he requested, but was a little shaken that every man in the room noticed her (and a few women) while he barely paid any attention at all. Then he smiled and she thought to herself, "I'm being overly sensitive, damn he's beautiful". The food at the "Bistro" was good, the drinks and wine even better. As he went on about this and that, she dulled her senses and focused on his face and mouth, which led him to believe that she was mesmerized by what he was saying. Nothing could be further from the truth; she had not heard much of what he had said, but had heard "I" at least a thousand times. She leaned forward and put a finger to his lips and said, "Can we leave, I'd like to go somewhere more private." He looked at her and his eyes widened as he said "Sure, we can go to my place, its just around the corner."
There are just times when a persons ability to read minds, becomes apparent. She had sent him a non-verbal message and to her amazement, he shut up long enough to receive it. As she walked out those same eyes followed her and she found herself flirting with each of them. To one she was seductive, to another cute, and to still yet another openly sexual. He led the way out of the door and before she exited, she took a look around the room and smiled. She was surprised at how many smiled back.
When they got to his place, he removed his jacket and scarf and set down his bag. She looked around the apartment and saw books everywhere, an older couch well worn and comfortable looking, a large chair, coffee table. The kitchenette had a counter and a couple of bar stools; on it was a small wine rack with several bottles of red wine. She pointed and asked if she could have a glass; he nodded and suggested a Merlot ( a 2000, to be more precise), she just said "yeah that would be fine". She asked to use the bathroom and he pointed the way. Once inside, with the door closed she hiked up her form fitting dress, pulled down her lace thong and began to pee. As she peed she tried to make an assessment of how the night was going. In the negative column was the fact he was inattentive, had a major ego, was almost rude, short, and talked way too much. In the positive column, he was beautiful, but like Narcissus consumed with himself (she on the other hand was not Echo and was able to speak the first word)
She re-entered the room and he handed her the wine she had requested. They sat down on the couch, she took a sip and set the glass down on the coffee table. He turned to say something and just as he opened his mouth she kissed him. Her tongue found his and she began to experience the power of it. She placed her hand on his thigh and squeezed. He in turn put his on hers and began running it up until it was fully under her dress and caressing her ass. She brought hers over his lap and felt the bulge beneath., she grasped it through his slacks and began to tighten her grip. They mutually broke for air and he suggested the bedroom. "Thank the Goddesses", she thought, "I have shut him up"
They went to his bedroom, still touching an kissing. Once there she unbuttoned his shirt and unbuckled his pants revealing the boxers below. As he fought to get his pants off over his shoes (and then removed them), he watched as she pulled that form fitting, black dress over her head (it was the first time he actually realized how stunning she was). He sat on the bed and removed his socks, but the boxers still remained (pardon Paul Simon). She stood there in a black lace thong, black stockings with garters and wearing a pair of black patent leather stilettos that tied at the ankles. She stepped out of the shoes, removed the garters and rolled down the stockings. He sat transfixed still in the boxers. Lastly she removed her thong.
Her freshly shaved pussy was already wet and very eager. She moved to the bed and laid back on it, as he turned from the edge. She took his hand and pulled it towards her breast and began kissing him again. His tongue felt larger in her mouth than it had before; so large in fact that it almost gagged her. At that point she began to suck on it as if it were his cock. It did indeed feel much like a cock and was amazing. his hands found her breast and she became even more excited by his touch. As he squeezed and played with her breast she closed her eyes, and gave herself up to the experience. She barely noticed that his mouth was no longer on hers. It was in fact kissing her body as it worked its way down. He kissed her breasts, her nipples, the sides of her body, her stomach and her hips on either side of her pussy.
Finally; with his hands still attached to her breast he let his tongue loose at her pussy. First it acted like a serpents tongue flicking at her clit, making her crazy. Then it began trailing along her labial lips, parting them every now and then. Finally it plunged into her, drinking in her wetness. When that tongue pushed its way into her eyes opened and widened. "Oh my God", she thought. His tongue was huge in her and he had curled it in such away that it was almost tubular. It seemed at times to be licking, sucking and fucking her all at once. Her clit, body and mind responded as if she was being fucked by a monster that would not release her until every drop of her cum had been taken from her. She let herself go and gave the tongue what it desired over and over again. This went on for hours, until she was totally exhausted. She laid there incapable of movement with her legs spread. It was then that he removed his boxers and revealed the secret.
Though his tongue had been a gift, his cock had been his curse. Measuring just over three inches when aroused and being a mere 1 inch in girth it appeared much like a dog's cock (and not a very large dog at that). He was erect and she was almost comatose from the tongue lashing; she barely noticed him mount her. He took his cock and brought it into her very wet and worn pussy and began fucking her with very rapid thrust. His little cock did rub against her clit and continued to do so until once again aroused she wrapped her legs around him. His thrust were hard and fast and though not deep had her cumming yet again. Finally he came in an almost spasmodic motion. She could feel his hot cum flood her with a force similar to water through a fire hose nozzle. Once done he backed off of her and put the boxers back on.
"That was amazing", she said and he just responded "Yeah I know, its a gift". Little by little Narcissus re-entered his body. The conversation then turned to his sexual prowess and how some women had actually passed out from pleasure. It wasn't long before she rose and excused herself to the bathroom. After bathing her sore pussy, she returned. She sat on the edge of the bed and said, "I need to go now, I work in the morning". With that she dressed and turned to leave. He took her hand and said, "Would you like to try that again some time." He was not being romantic, or suggesting dinner; he was suggesting another tryst with "Giganto" the tongue and the miniature fire hose. "Sure, call me", she said and then left.
There were several more encounters over the months and they were all pretty much the same. It was interesting, and exhausting, but by no means was he her dream lover. There was just one thing, "He was beautiful". She would use his, head, face and of course tongue. From her last encounter she brought a hair, an eyelash, his toothbrush and the cum his little fire hose spewed forth.
.........Continued........