She sat on the park bench, feeling a bit silly. In her mid-twenties now; she had been ordered to dress as a Catholic school girl. It was kind of funny because it had been years since she was in high school, and even then it wasn't a Catholic school so she had never worn the CFM (come fuck me) uniform that entices boys and men of any age. She had attended Hebrew school , but was asked to leave for crossing herself in the back of the class and those uniforms were anything but sexy. The memories brought a smile as she sat there in the little tartan skirt, with a white shirt (unbuttoned, revealing her cleavage), a tight blue sweater that could never be buttoned, white socks and black and white oxfords (those shoes were the cherry on top). He had told her "No panties", so as she sat there she felt exposed to prying eyes.
She had been told what to wear, and what bench to sit on; other than that she had no idea what to expect. Nic liked to play out doors so it probably would be a play date in the park, a picnic with her pussy as the main course. She was getting a bit worried though, because he had never kept her waiting before. She looked down the trail and saw a jogger; he slowed as he passed and looked at her and then shook his head. "Pervert" she thought, "trying to look up a school girls skirt" A breeze came up and she felt it on her freshly shaved pussy, then muttered "That's a bit brisk on the lips".
A half an hour had gone by and he hadn't shown, but he had told her to wait and she knew to disobey would not result in a pleasant experience. Just then two teenage boys came up to her and made some off colored remarks and then went on. A little while later a man approached her and asked if she had any change for the phone. She reached in the sweater pocket and brought out some change, and he handed her a bill; at that exact moment a vice cop came charging up flashing his badge. The man ran, but she just froze on the bench like a deer in the headlights of an oncoming truck.
"Young lady I am placing you under arrest, you have the right to remain silent, anything you say may be used against you.....", "Arrested for what" she interrupted. "Prostitution, soliciting sex for money. I have been watching you for a while now and when the transaction went down between you and your john , I had you" "What the fuck are you talking about, he asked me for phone change and I gave it to him, then he gave me a dollar." The cop looked down at the bill in her hand, "Lady that must have been a lot of change you were carrying to cover that bill" She looked at the bill in her hand and saw it wasn't a dollar, but was a $100 dollar bill. She was dumb struck, and the guy had disappeared from sight.
"Look, it was obvious to me you were hooking. I watched you hit on the jogger, and those two boys, but figured you were out of their league. When you took the money it was a slam dunk. You should really be ashamed of yourself; I'm sure your parents raised you better than this." She hated being lecture to and for something she hadn't done no less. "No you look, I was there waiting for my boyfriend; he should be here any second, you can ask him." "Lady you have been here over 45 minutes. That's a long time to sit and wait for a date and the guy that gave you the hundred must have wanted a bit more in return than four quarters. I'm sure if I waited long enough your pimp would back up your alibi, but I'm not going to wait" He pulled out his handcuffs and cuffed one wrist while she struggled. "Stop resisting or I'll add another charge" he told her. Once the cuffs were on he led her to his unmarked car and put her in the back seat. He got in and called the station on his radio announcing that he was transporting a hooker from the park. She sat in the back and told him he'd lose his badge for this, but the cop didn't respond.
As they drove the car radio cracked and a voice asked if she was dressed like a school girl and the cop said "yes". The voice at the other end said, "Don't take her to the station; there's a guy at the Capri Motel who claims to have been robbed by a hooker dressed as a school girl this morning. She tied him up and took his money." "Can't he just come in for a line-up?" the cop asked. "Not really, he's somebody important and we need to keep this quiet. That's why we're not on an open channel, he's a judge" The cop agreed to go to the motel and looked in the rear view mirror. "Shit lady you really stepped into it this time." "What are you talking about? I'm not a hooker and I've never been to the Capri Motel" "I hate to say this and I know you won't think it's funny, but you're going to have to tell it to the judge"
When they got to the motel, she saw a black and white squad car parked outside the apartment on the end.
It looked like a pretty sleazy place and this whole thing had gone from making her feel mad to being extremely nervous. There was a uniformed officer standing by the car and he called the cop over. They talked in hushed tones for a few minutes; looking at her in the car and then at the apartment door. The vice cop returned to his car. "Here's the situation, the judge needs to get a look at you to determine whether you're the whore who tied him up and robbed him. Problem is, we can't let you see him because it would put him in a vulnerable position. We decided if we blindfolded you, then the problem would be solved." "OK go ahead blindfold me, I have no desire to see the pervert anyway. Just get him out here, let him take his look and then take me to jail so I can call my boyfriend; who by the way just so happens to be a lawyer." "Well you see that's another problem, the judge can't afford to be seen by anyone here so you will have to go into the room for the viewing."
"You have to be out of your fucking mind, if you think I'm going to put on a blindfold and walk into some sleazy motel room, so some perverted judge who fantasizes about fucking school girls can look at me!" "Sorry lady, you can do it this way and get cleared or you can be charged with a second count that includes an assault and robbery charge. Plus you run the risk of coming up against the same judge at your time of trial. He's a very unhappy man right now, I would imagine he'd send you away for a while. All you need to do is let him see you, I'll be right there. OK?
She felt like she was fucked if she refused and afraid she would be fucked if she said OK. She thought about Nic, cursing him one minute for not arriving on time to prevent this and then wishing he was there to save her. She couldn't even call him until she was booked, this was a very bad situation. "FUCK, FUCK, FUCK" she thought, but then said "OK, lets get this over with and you better see to it that nothing happens to me." "Sure lady, now step out of the car and let's get you blindfolded" When she got out of the car the cop unlocked one cuff, so he could re-cuff her hands in front of her. He rummaged around in the trunk and found an ace bandage. "I guess this will have to do, now close your eyes" He wrapped the bandage around her head and then fastened it. She was totally in the dark and very scared as the led her away.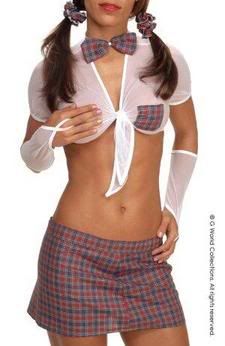 He led her into the room and stood her in front of the man sitting on the bed. The room was dimly lit; it smelled of cigarettes and she could only imagine what kind of people used a place like that. "Is this her judge?" the cop asked. There was whispering and then the cop said "Turn around" "What? What's going on why do I need to turn around?" "Because he wants to be certain, he wants to see your profile so just turn around" She felt like a puppet and all the wrong people were in control of the strings. She turned as told.
There was a long silence and more whispering. The vice cop walked her away from where she stood and said, "There's a problem. The judge is pissed, and wants more than justice. He said if you give him what he came here for, then you could walk out of here a free woman. If you don't fuck him he's going to have you charged with everything and said he would make sure that you were imprisoned in a very bad place. He has a lot of power and can affect every arrest I make, not to mention my career; so I am not about to argue with him. You understand?"
"Well I understand that I'm not going to fuck your judge and when this gets out neither of you will have careers." She was defiant on the outside, but she wanted to run on the inside. "Well since you haven't seen the judge you can't identify him and my arrest was based on the fact I saw you take a hundred dollars from a guy while sitting on a bench in a park frequented by prostitutes and their johns. Throw in your school girl uniform and the lack of undergarments and I can't imagine a judge or jury not convicting you. You can make a complaint, but have no one to substantiate it. Bottom line is you are going to get fucked either way."
She wanted to scream, but who would call the cops; they were already there. "This is rape and you know it" she said, while fighting back tears. "No you consented, I heard you. Do you think I'm going to fight with the judge, if so you're crazy. Look he's probably in his 70's how long could it take, just do it" She felt the tears in her eyes, but the ace wrap just absorbed them. This was wrong and she knew it. What could she do? What would she tell Nic? "He must be frantic by now" she thought, "Maybe he called the police to report her missing, but what would he say; that he was supposed to meet his girlfriend in the park while she was dressed like a schoolgirl or worse yet a prostitute so he could fuck her in the bushes" The cop was right she was fucked or going to be.
"OK, I'll do it but if he hurts me, I will find you and kill you. What am I supposed to do?" "Just do what he wants and when its over, I'll drive you back to your corner. I'm going to take you over to him and then I'm going to stand outside the door." He led her to the bed and sat her down; a second later she heard the door close. She sat and it seemed like time froze then she felt a knee at hers, making her separate them. She felt his naked legs standing between hers and a hand on her head. The hand pulled her head forward until her lips felt a cock pressing against them. She hadn't expected this and tried to turn her head but the hand pulled her hair and force her mouth back into position. She swallowed hard and then opened her mouth to let the cock in. "This old man must be on Viagra" she thought, "I should just bite the thing off" But she knew she'd probably get life for separating the judge from his Johnson. She just wanted him to cum and get it over with. The hand bobbed her head on the cock faster and faster, until she was gagging on it and then withdrew it.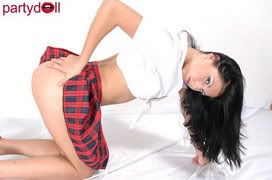 She was placed on the bed in a kneeling position; her cuffed hands out in front of her so that her ass was up. Again her legs were parted and her skirt was lifted above her waist. She thought he was going to fuck her finally, but instead of his cock she felt his tongue enter her. He licked at her pussy and it responded. The lips relaxed as the tongue thrust its way in and up. He ate at her like a hungry dog and sucked at her clit. Soon she felt fingers probing her, making her even more wet. She didn't want this but was becoming aroused by the foreplay. The mouth moved away and her heart pounded
It seemed like only a second had passed when she felt his hands on her hips and his cock drive deep inside of her. It was firm and thick and was pounding into her. She was being raped, but she was also very turned on by the force. She felt herself relax and begin to moved with him. Harder and faster the thrust came only to be greeted by her greedy back thrust. She was in another place when his hand came down on her ass, leaving a massive pink hand print. It stung but she was caught up in the rhythm. His hand came down two more times leaving her ass welted and red. He slowed his assault on her pussy and reached under her shirt until his fingers found her erect nipples. He squeezed and twisted while all the time fucking her. She moaned and knew that she would cum . His torture was exquisite and her body wanted to reward him. His thrust began to become harder and faster again and she just let go; she could feel her ejaculate as it flowed over his cock and so could he. He let go of her nipples and grabbed her breasts, he squeezed them harder and them as his cum was released to mingle with hers relaxed his grip and collapsed on top of her; forcing her to collapse on the bed.
Her first thought was that he had died, but she could feel his heart beating against her body. He laid on her for what seemed like an eternity and then she said, "May I leave now" He laid on her and there was silence. Then she heard, "You can, but I have the room for the night and it beats a blanket in the park." The voice was Nic's. "You prick!" she screamed, "how could you do this to me?" "Well I called in a few favors from a few friends and clients. Everybody that you saw in the park was in on it and the rest was on you. You were perfect. So do you want to stay?" He removed the blindfold and she adjusted her sight to gaze into his smiling face. "That was cruel and you don't know how close you came to losing your cock"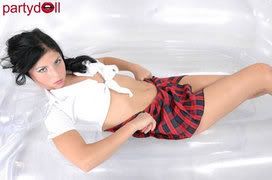 "Well you seemed to enjoy it in the end I think, or did you pee on Me." "Lick me and find out, but I don't know if I can go back to fucking a lawyer after a judge, it seems like a step down.
There was a knock at the door and the vice cop opened it a bit. "Everything OK in here your honor?" he asked, "I need to go I have a real call, here's the key to the cuffs; get them to me later." "Thanks buddy, I think I'll leave them on her; I feel safer that way" The door closed and he looked at her. He pulled her shoes off and then her skirt. He rolled her over on her back, and opened her shirt. He looked down at her and smiled, "I think its time to revisit the scene of the crime and gather evidence" With that he brought his mouth down on her freshly fucked pussy sucking their cum into his mouth, then blowing it back into her with a deep breath. "I think I'll need your opinion" he said, and then drew it back into his mouth and delivered it to hers in a kiss.