There are days that embed themselves in your memory like the day John Kennedy was shot, the day a man touched foot on the lunar surface, or the day the Challenger exploded killing the shuttle's crew. For Deb it was Valentine's Day in 2001; the same day NASA's N.E.A.R. (Near Earth Asteroid Rendezvous) spacecraft actually landed on the asteroid Eros.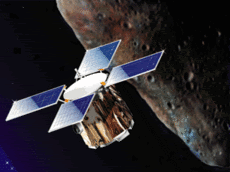 She had seen the story a year before on the computer and had been following NASA's progress on the
N.E.A.R. web page
. The story was about a phallic shaped asteroid that was named for the Greek God Of Love (thought to be a remnant of a distant planet) but this wasn't what captivated her. No, it was the man she met that Valentine's Day in 2001 and his claim that he had been sent from the planet Eros over 9000 lifetimes ago. His mission, as he told the story, was to enlighten mankind.
This is the story she read:
"On February 14, 2000, at 10:33 AM EST the NEAR spacecraft was successfully inserted into orbit around 433 Eros, becoming the first artificial satellite of an asteroid. Just over an hour later, NEAR pointed its camera at the asteroid and took the above picture from a range of 210 miles (330 km) above the surface.
NEAR was launched on February 17, 1996, as the first of NASA's Discovery missions to rendezvous with asteroid 433 Eros. During the journey to Eros, NEAR flew within 1212 kilometers (750 miles) of asteroid Mathilde on June 27, 1997. NEAR was to continue onto Eros and obtain orbit in December of 1998; however, due to a computer glitch the rendezvous burn of NEAR's bipropellant engine was aborted. This failure caused NEAR to fly past the asteroid on December 23, 1998. Mission operators quickly reprogrammed the spacecraft to obtain scientific flyby information and to put the spacecraft into an orbit that would eventually reach Eros in February 2000.
Eros is approximately 33x13x13 kilometers (20x8x8 miles) in size and resembles a "fat phallus." It is the second largest near-Earth asteroid and spins on its axis once every 5 hours, 16 minutes. Eros exhibits a heavily cratered surface with one side dominated by a huge, scallop-rimmed gouge, and the opposite side by a conspicuous sharp, raised rimmed crater.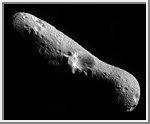 NEAR's First Whole-Eros Mosaic from Orbit
This picture of Eros, the first of an asteroid taken from an orbiting spacecraft, is a mosaic of four images obtained by NEAR on February 14, 2000, immediately after the spacecraft's insertion into orbit. We are looking down over the north pole of Eros at one of the largest craters on the surface, which measures 4 miles (6 kilometers) across. Inside the crater walls are subtle variations in brightness that hint at some layering of the rock in which the crater formed. Narrow grooves that run parallel to the long axis of Eros cut through the southeastern part of the crater rim. A house-sized boulder is present near the floor of the crater; it appears to have rolled down the bowl-shaped crater wall. A large number of boulders is also present on other parts of the asteroid's surface. The surface of the asteroid is heavily cratered, indicating that Eros is relatively old. (Courtesy of NASA/JHU-APL)."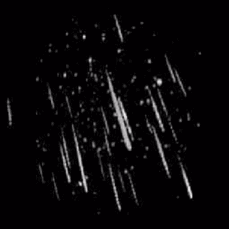 Her encounter that night with the man she affectionately called Stud happened while she sat with Daisy, her terrier, on a blanket at the beach sipping wine and waiting for a predicted meteor shower. She was dressed in a short shift and light sweater. A sea breeze blew up between her legs against her pussy as she sipped the wine. She became aware of her labia parting as the salt air brushed against them and then her clit began to swell.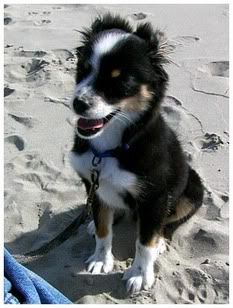 She looked around and found that she and her small dog were the only inhabitants on the beach; so, reaching into her bag she brought out a dildo (complete with balls). She raised her shift to expose her pussy and spread her legs. The terrier sensed her excitement and as if drawn by the scent of her wetness began licking at her labia and clit. Deb closed her eyes and let the dog lick until she had an orgasm, which made the pup lick even harder. Soon she had another climax and then a third, but her furry little friend became distracted and left. By now her labia were quivering with the touch of the sea air and her cunt was dripping with excitement so she slid the dildo down inside until the balls pushed against her. She closed her eyes and massaged her pussy with the well-lubricated cock. Her climaxes came rapidly and strong. Her cunt spilled forth its ejaculate and the fluid poured around the dildo as she cried out.
She opened her eyes to a shooting star, making a wish to meet her soul mate and to be taken to places she had never been. At that moment, she heard Daisy bark. The trance was broken by the barking dog, so she withdrew the cock and put it in the bag. She whistled (as best she could) and called the dog's name as she pulled the shift down over her still throbbing wet pussy. Again she called for Daisy and was startled to hear a man's voice ask, "Is this who you are calling?" When she turned she saw a man approaching her carrying the dog as it tried to lick his face. "I came across her down the beach and we became friends" he explained.
Deb took the dog from him, looked her in the eye and said, "How many times have I told you not to pick up strange men?" Daisy's pink tongue found her face (just as it had found her pussy) and eagerly greeted her mistress. The man smiled and asked if she were enjoying the meteor shower, at which point she realized that with the exception of the shooting star she had not seen any of it. She looked up into his dark eyes and said, "Yes, I was just laying here enjoying myself and the stars. How about you?"
The dark stranger looked down at her and then back up at the stars, that appeared to be dropping into the sea. "I always enjoy this kind of a show, though it does make me a bit homesick. I have seen this from a vantage point few others would admit to; but, I know I have shared the experience with others" he told her.
"Homesick? Did you live in the country? I know the city lights hide more than what we are seeing. I remember being in the mountains one year. There were no city lights. We could see the Northern Lights pulsating and millions of stars behind them. Have you ever watched the Northern Lights?" She didn't feel intimidated by him and rather enjoyed having a human companion to share the experience. "Would you like a glass of wine? It will warm you."
"I shouldn't. It dulls the senses, but I will because sometimes dulled senses are preferable to feeling," he told her as he took the plastic glass with its ruby red contents from her hand. Something in his voice spoke more about him than the words. His voice was soft and low but not deep. When he mentioned being homesick she felt his loss and when he spoke about the wine, she knew exactly what he meant regarding dulled senses. It took the edge off for her; sometimes allowing her to get through a night alone better than company did. They stood and stared at the stars sipping their wine. When his glass was almost empty, she filled it again.
"You're not from Jacksonville are you? I think I would have noticed you. Why don't you sit and enjoy the light show with Daisy and me?" she asked him while looking over at the terrier. He thanked her and sat to her right. He was a man about her age, maybe a bit older with a shaved head and goatee. The streetlights revealed what appeared to be a flame at the base of the back of his neck. She also saw a tattoo on the back of his hand and wondered what else was under his shirt. Her labial lips quivered and this time it had nothing to do with the sea breeze.
He looked up at her and smiled. "Do you know much about the stars or universe? It is truly an amazing place. When you were in the mountains you said you saw a million stars, but you saw less than a millionth of what is out there. The people of this planet haven't a clue as to what surrounds them or how they have been affected by the peoples from other worlds."
She was listening to him and watching the falling meteors. It was almost like having Carl Segan narrating an Omnimax show in a low sexy voice, but the phrase "People of this planet" bothered her. It wasn't "we" - it was as if he wasn't part of the group he was talking about. "What do you mean the 'people of this planet'?" she asked hoping the answer would allow the hair on the back of her neck to relax.
"I just mean the human race; they seem to be able to accept the concept of some 'creator', but not the concept of an alien race let alone an alien race might be responsible for their presence on this planet." His words didn't relax her nape hair one bit. His soothing voice began to worry her. She figured one more question would resolve the unasked question "Have I shared my wine with someone who should be watching the X-files in a mental hospital?"
Nonchalantly she asked, "Is that what you believe?"
He replied without hesitation, "It's what I know".
She told him it was time to take Daisy home, finished her wine and stood up.
"I know you think I'm crazy. At one point years ago I thought I might be but found out I wasn't. I'm sorry you want to go. It was nice sharing the night sky with you." He swallowed the wine in the plastic glass and handed it to her, but remained seated. She studied him for a few minutes and felt the hair lay down. He wasn't menacing and the stars were still flying across the sky so she allowed herself to relax and sat back down beside him.
"Maybe we can stay for the end of the show. You sound certain about our origins and you did scare me, but you've also piqued my curiosity about how you attained your insight."
"A psychic told me" he responded. She stifled the urge to bolt as her stomach did a small flip relying on her instinct the man posed no threat. "Years ago I had a strange experience while doing psilocybin mushrooms. At first I thought it was a drug induced psychedelic hallucination, but a friend who is a psychologist told me it was an out of body experience. I rode on the back of a Native American Thunderbird that was outlined in white light and it carried me up to the stars. I felt at peace and at home there but was snapped back into my body. I had a couple of other experiences when I felt like other people were sharing my body. I was told they were spirits. I became curious about past lives and read what I could find on the subject. Things became clear when a friend had a psychic over who mentioned past lives. I asked to learn more about who I was or had been. She said I had over 9000 past lives on "this" planet. I asked her what she meant by "this". She explained I was not from earth, but from a planet called Eros. I had been sent here to enlighten mankind. I know it sounds crazy, but I believe her. I also know there are others like me who are just as unaware as I was." He looked up at her expecting to see panic, but instead saw her studying him.
When he began telling his story a number of things went through her head, but amazingly she was comfortable with it. She didn't think he was strange, threatening or crazy. Instead, she heard an old soul who had been around awhile, may be even over 9000 life times. Her attention was drawn to something else - his middle finger. It was unusually longer than most people's by almost two inches! It was the same on both hands, so it was the way he was built. Her mind drifted and she wondered if his hands, more specifically those middle fingers, reflected the size of anything else.
When he noticed her gaze fix on his hands, he folded them in his lap. "I assume it's a latent gene since neither of my parents had abnormally long digits." He looked at her as he spoke and found she shifted her gaze to his face and looked into his eyes. He turned his gaze skyward pointing to a distant light (one of millions) and said "That's Eros. If you watch it you can see it move in its orbit."
"I know. I've been read about it; but the article said it was an asteroid. N.A.S.A wants to land on it." She made the statement and began laughing. He watched her and smiled, then inquired as to what was funny. She tried to maintain a straight face, but the wine and situation wouldn't allow it. "Well the article said it was shaped like a 'Fat Phallus' and I envisioned a space ship looking like a well defined cunt landing on Eros with the astronaut saying, 'The Pussy has landed!'" She was laughing so hard she could barely get the words out coherently. He chuckled at hearing the sexual innuendo's falling from her lips.
"I think you'd be surprised about the sensual affects of Eros. Its orbit brings it closest to earth each year around Valentine's Day causing changes in the earth's gravitational pull. Studies show these changes cause heightened states of arousal in men and women much like the full moon. Archeologists have found evidence that groups on every continent had what could only be described as "orgies" when Eros's orbit corresponded with a full moon." While he described the effects of Eros on the earth, his voice had its own effect on her. She heard his words, but the soft low intonation of his voice aroused her. Her breasts swelled, the nipples rock hard and extra sensitive when they brushed against her cotton shift. She took shallow breaths as the blood rushed to her clit. Her labia quivered to the rhythm of his speech pattern, and then her pussy started --- open, close, open, close … She knew it was only a matter of time before the wetness deep within would soon start to creep down her thighs. "They have found blue pools on the asteroid in craters and have witnessed is believed to be a geyser named the "Geyser of Love"."
She had heard that name before, but it wasn't associated with an asteroid. She had been reading about female ejaculation (a phenomena that she enjoyed as frequently as she could) and had happened on a piece by Dr. Susan Block titled "
Squirting: The Geyser of Love
" . She told him about the coincidence and he laughed. "I don't believe it's a coincidence. I believe it's a genetic result of some intelligent design by the people of Eros who visited this planet as it's populace evolved. They created human sexuality and a predisposition for the sensual aspects of love making. I can show you, but only if you are willing. From the scent and vibes I am experiencing; I would say, you might be willing." His proposition was both blunt and right on the money. She decided on this particular Valentine's Day to perform his little experiment.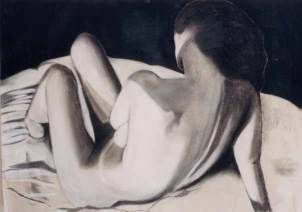 Relaxed by the wine and his seductive voice and led by her own curiosity, she once again sat with him on the blanket enthralled by the stars still falling from the sky. He removed her sweater (which had become much too warm) and then her shift, exposing her full breasts and womanly form. As she lay on the blanket, he removed his shirt revealing an upper torso covered with ancient gods. He undid his belt and dropped his pants. Her eyes fixed on his still flaccid cock and she felt a little disappointed (another myth busted much to her dismay) seeing the very normal / average length of it. He knelt beside her and she felt the heat radiating from his body. He brought his right hand up to her breast using his elongated finger to touch her nipple. She felt energy pulsating through her body. An energy that was so strong she felt a mini-orgasm come and go before she realizing what happened. His touch was like an aphrodisiac and she was thankful she was lying down because she knew her knees wouldn't support her. She turned her head to look at him parting her lips just as he brought his mouth to hers.
As his lips touched hers, she tasted something sweet. It was emanating from his mouth like the nectar of a flower. Like a hummingbird, she offered her tongue to absorb as much as possible. As her tongue took in this delicacy, his found hers and held it as if it were his cock trapped between her labial lips. The nectar flowed down her throat and she felt drugged; but, not by something rendering her helpless. This substance unleashed her already active libida. She felt her breasts swell even more - filling with milk; her hard nipples began to leak the first droplets. Her clit swelled, and seemed to have its own mind, wants and desires as it peeked out like a little dick from its hood. Her cunt filled with its own cum, waiting for the trigger to release it and the wait was short.
Without realizing it, his mouth had gone from hers, to her milky nipples. He drew each one in and his talented tongue wrapped itself around one and then the other creating the perfect (almost) human milking machine. The relief from the pressure on her breasts was almost instantaneous and as he took her tender nipples and their tasty secretions, she moaned uncontrollably. She found herself responding to her own moans as her cunt's vital fluids began to leave their vessel and trickle down between the cheeks of her ass. The night was cool, but her cum was very warm as it flowed forth. He continued to tease her breasts as his middle finger found the trickle of cum and followed it from its resting place at her anus to its origins; her open full pussy.
His finger curled as he entered her much like a wand vibe. It rested on her G-spot and began pulsating. Confused and aroused she was trying to comprehend what was happening as the first of many orgasms began to form like a tsunami deep inside of her. The energy his finger emitted was like a strong G-spot vibrator. Her response was greater than any orgasm she had ever experienced. The waiting wave gushed from her into his cupped hand and he drank from it. He continued the massage of the spongy spot inside her pussy at the other end of her clit. Within seconds, another wave manifested itself bathing her thighs in the warm fluid. Her body heaved with each climax; every aftershock resounded in the night air through her cries. Her eyes were glued to the sky and the falling stars as her body responded repeatedly to every touch and flick of his tongue. While watching the stars and losing herself in him another phenomena occurred.
At first, her confusion about what she was experiencing made her question her senses. As she watched the stars, some appeared not to fall at all. They dropped like the others, but then slowed and seemed to redirect themselves towards her gaze. Instead of disappearing into the atmosphere they began to grow if ever so slightly. Her gaze was redirected when she felt his tongue pass through her labia on its way deep inside of her. He curled it like a straw and began sucking the remaining cum from her body or at least tried to keep up with its flow, again she writhed in pleasure.
Having satiated one appetite, he began to indulge another. He rose above her allowing her to see what happened to his "average flaccid cock". It had taken on new dimensions as it was poised to penetrate her open swollen pussy.
The thickened rod glided into her cunt effortlessly. Her cum had lubricated the way to any port he desired to enter. She willingly, eagerly accepted his package. She felt each ridge bump and vein as it slid in and out of her hungry pussy. She was lost in the experience and moved with him as he took her. His rhythm was slow and easy at first, but as she washed his cock with her cum it changed. He began to pull it out further and thrust it in faster and deeper, she was less aware of the surface of the shaft now, but became more aware of the size of the throbbing head and the heat it radiated. With each stroke her clit and then g-spot felt the throbbing head and as he intensified his thrust she came with such a force that she could see her cum wash up his cock as he brought it down again. Her scream cut through the night; it wasn't a cry of pain, but one of unadulterated pleasure. As forceful as he was coming down, she began rising to meet him. It was as if she wanted the cock to fill her ravaged body.
She felt the head of his cock pounding inside of her and then explode sending a torrent of hot gis through her. It was as if she could feel it in her veins and it warmed her body. When he came her eyes widened and she could see the smile on his face, but she noticed something else. Those few stars that had ceased to fall were even larger and as she looked up at his shaven head, a halo seemed to form around it. He began to move as he had in the beginning and without giving the anomaly a second thought she closed her eyes and began to drift once again. His fingers tormented her tender nipples and his cock massaged her cunt. She was so far off mentally that she didn't even notice him slide out of her.
He gently rolled her onto her side and moved his body close as if to spoon while they rested, but spooning was not his intent. Instead he brought his hand up between her legs gathering their combined cum and brought the homogenized mix up between the cheeks of her ass to her puckered anus. That magic middle finger began to rub the cum on the tight sphincter as if it was a magic wand opening a door to yet another orifice. In her mind she pictured the throbbing head of his cock trying to push pass the gate and prepared herself.
When he did enter, it was nothing like what she had expected. The head seemed to have almost become bullet shaped and seemed thinner. It passed the portal and his cock slid inside. She felt herself close around it and felt the same warmth she had felt in her cunt. Again he started slowly and she positioned herself to make it easier. She was drifting as he brought his hand over her hip and led the magic finger to her still open pussy. The finger began to almost buzz as he laid it to her clit.
The finger buzzed and made circles over her engorged clit. As he pressed into her ass she pressed against the finger and every nerve in her body woke up. She began to move back and forth as he maintained his steady rhythm. She felt her body bounce off his, over and over again as her eyes closed on the falling stars. Her climaxes came effortlessly; she had both anal (assgasms) and clitoral, which seemed to occur with each stroke. Soon they were a part of her just as she imagined a thunderbird outlined in white light lift her up and take her into the stars.
When she awoke, she was in her bed with Daisy gently licking at her pussy. She stretched and was amazed at how well she felt. "What a dream I had." She explained to the dog. "Momma drank too much wine last night". She rose from the bed and noticed a small trail of clear liquid that extended to the bed from the front door. She looked at Daisy and then noticed a note on the bedside table.
"They came while you were asleep so I brought you home and put you to bed. You seem to be leaking, but I really have to go and recharge my batteries so to speak. It will take a while, but I'll be back. I would like to see you again. Look for me around Valentine's Day, and I will come to you at the same spot." The note was signed
From Eros with Love,
Nic, your Space Tactile Ultimate Dom (S.T.U.D.)
I Cum In Peace


***********************

If you aren't from Eros and haven't got a magic finger you might want to consider this:
Fukuoku 9000
As Seen On TV! Gosh, we've always wanted to say that. This is definitely one of the coolest innovations in vibrator technology that we've come across in a long time. It's a tiny little vibrator, powered by watch batteries, that fits over the tip of your finger -- so you basically use your finger like a vibrator.
There are so many advantages to this design, we don't know if we can list them all. But for starters: It's really small (and it fits right over your fingertip), so it's very easy and convenient to use during sex, without cords or big plastic things getting in the way. Because it fits on your fingertip (and because it's so small), you can get more subtlety and precision of motion than you can with standard vibrators; even a slight change in the motion of your finger will be transmitted through the toy, and you can get the pressure and location of the vibrations exactly where you want them. You can also use it to make your finger vibrate -- just turn it around so the vibrator is on the back of your finger, and presto! a magic vibrating finger, which feels waaaay cool. And the vibrations are actually fairly powerful; not quite as strong as most plug-in vibrators, but a whole lot stronger than a lot of battery-operated ones. Great for both masturbation and partner sex, it opens up a whole new set of options and varieties and possibilities. (It's also useful for folks with carpal tunnel or other hand injuries, since you don't have to grip anything to use it.) Our testing team had a ball with this toy, and we recommend it heartily and unreservedly.
The Fukuoku 9000 comes with three removable latex slipcovers, each with a slightly different texture (you can also just use the un-slipcovered plastic vibrator if you prefer), plus a handy little black carrying case. Powered by 2 watch batteries (included, along with spares, although we won't guarantee they're any good, since we don't know how long they've been in storage). We sell replacement batteries for this toy; see Button Cell Batteries.
Note: This vibrator is not really designed to be inserted, and it's definitely not safe to insert it anally.
Another note: While the Fukuoku 9000, the Fukuoku Power Pack, and the Fukuoku Massage Glove are similar, they are not interchangeable. You cannot plug a Fukuoku 9000 into a Fukuoku Power Pack or Fukuoku Massage Glove battery pack; it can only run off of its own watch batteries.
This and other toys for "Close Encounters" that may lead a willing travelor to "Space" may be found at
Blowfish
(if nothing else it's worth going there to read the reviews on everything from Porn to Toys)