Libby Montana is a small city nestled in the Kootenai (Koot-ten_ee) Valley. Miners, lumberjacks and trappers once made it a boom town. There is always a chain of events that occurs when gold or other riches are found. First come the men who by the sweat of their brow, find the treasures. Then came the merchants who charge more for their wares because they know they can get it. The saloons bring gamblers who try and cheat them out of their hard earned money, but the brothels and cathouses are the one place where they parted with their gold willingly. It was ironic that I knew instinctively about the presence of such a place in Libby and then discovered its location across the tracks.
The Libertine of Libby Part One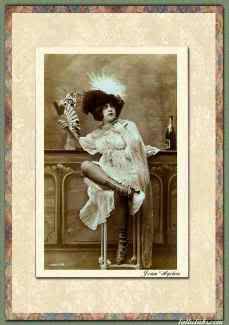 The Madame watched with a weary eye as the scrubby man walked towards her. He carried in his had a saddle bag that altered his gait and when he dropped it on the counter the ensuing sound silenced the room. " I want a bath, a shave, a bottle of whiskey and the best fucking whore this house has to offer!" he demanded and then took out a cloth bag and said "Now!". The Madame picked up the bag and untied the string at the top.
"Yes sir, immediately" she said with a smug grin on her face. She rang a bell and a Chinese girl ran to her. "Lic Mee, take this gentleman up to room #1 and give him a bath, hell give him two and when you can see the color of his skin shave him and give him a haircut." She turned to the man and said, "What about your clothes; what say we burn them and deck you out in a gentleman's suit?" The man nodded barely taking his eyes off the scantily clad Lic Mee
"Is this my whore?" He asked
"Hell no, she's just the appetizer. She's going to get you cleaned up for my best girl. Only Lilly is good enough for a gent like you, shit she's fucked the crowned heads of Europe and is almost royalty herself. That's why I call her Princess Lil" With that the man grinned, exposing his almost toothless mouth. Lic Mee led the man upstairs once he had regained possession of his gold. The Madame had no intention of loosing what she considered the mother lode. As she watched him go upstairs she walked to the bar and told the bartender to break out two bottles of whiskey; one bottle was straight Kentucky whiskey and the other was spiked to render the drinker helpless. When she got what she wanted she rang the bell five times and waited. Nothing happened, so she rang it five more times. "Worthless cunt" she muttered as she mounted the stairs with her two bottles in hand. She passed the room where her mark was being attended to and proceeded down the hall to the room marked 5. She opened the door without knocking only to catch the young whore swallowing a clients 7" cock. The man shot upright, pushing the girl aside just as he came. The hot cum fell on her breast and mingled with the sweat.
"God damn it Sal, don't you ever knock" he said grabbing his pants and shirt. As he dressed he took the badge off the whore's corset and pinned it back on his coat. Lil just laid back and watched the Police Chief of Seattle square off with the city's most influential Madame.
"You can always get yours, but right now I have a pigeon to pluck and this little tramp is my favorite pigeon plucker." Sal looked at the girl and said, "Clean yourself up, you have a paying customer and I have plans." The girl went to the dresser and pour water into the basin. First she bathed her face and then washed the chiefs cum from her breasts. The washed her pussy and sprayed some scented toilet water on it.
"What's are you looking at?" Lil asked Sal. "You've seen it all before, hell Sal you've licked it all before, so why so interested now?"
"Well my fine cunt, we have a man here with a miners riches and I intend on releasing him from his burden. Lic Mee is cleaning him up for you, because I told him you were the best fuck in the state and were almost royalty, so clean yourself up and put on that fancy crown. He wants whiskey so we'll all have a drink of the good stuff, then I'll leave and you let him get started. I've got a special bottle with a Mickey in it you can feed him; once he's out we'll roll him and dump his sorry ass on the warf."
"And for me, what is in it for me?" The whore said as she started dressing.
"Why my dear haven't I always taken care of you? Sal grinned.
"I've made you rich and you have given me a clean bed to do it in, I repeat "what's my take"
"We'll work it out after you do your job, just get yourself together and try to act royal" With that Sal left the bottles and the room. Lil finished dressing in her finest French brocade corset, and a dress meant for a ball some years before. She then opened a drawer and pulled out a tiara, made with fake stones. In many ways she was royal; she was arrogant, educated and had a demeanor high above those around her. She looked in the mirror and sighed; at 24 she felt as if her life was over; that being one of Sal's girls was as good as it would get. She walked over to the whiskey bottles and saw no difference except for the "X" on one cork. She opened the safe bottle and poured herself a shot. She began to cork the bottle and then hesitated. Seconds that seemed like minutes passed as she uncorked the bottle with the "X" and switched the corks. Just as the deed was done there was a knock at the door. "Come in", she said.
The door swung open and Sal and Lic Mee escorted a freshly shorn man through it. Sal made a faint attempt at a curtsey as Lic Mee bowed. "Your highness, this here is Big Bill Milford. He traveled all the way from Montana and the Snowshoe Lode to taste Seattle's best and I told him there ain't none better than Lady Lil. Hell I even threw in your hand maiden Lic Mee to insure he got his moneys worth."
"Charmed I'm sure" Lil said as she stretched her hand out. The man grabbed it and shook it as if he were at a pump trying to get water. "Sal would you and Bill join me in a toast to celebrate the Queen's birthday?"
The Madame bowed and Bill agreed as he peered down Lil's cleavage. Lil took the spiked bottle and poured Sal and Bill a beer mug a quarter full of tainted whiskey. She raised her glass and said "Here's to your royal Hind Ass" No one heard the toast, they were all interested in what they were about to get. Within 20 minutes Bill and Sal were laying unconscious on the floor at her feet. She turned to Lic Mee, and said "It's time to go."
Lic Mee helped Lil undress the miner an laid him in the bed then she grabbed some scarves and bound him to the bed at his wrists and ankles. Next they drug Sal over to the bed and peeled her clothes off, exposing large breast and very bushy cunt. They laid her on top of the miner and bound her in the same manner. Once the trussed up duo was in place they were gagged. Lil turned to a panicking Lic Mee and said, "That bitch has never treated any of us right, but you have been treated the worse. She bought you when you were small and has used you or let others use you in every way possible. I am about to escape from here are you going to come with me? "The girl nodded. First we need to pack and hide the miners gold. Then I am going to clean out Sal's safe and tell the bartender he's to lock up and open up tomorrow night because Sal is busy. We'll go to the train station, but won't buy tickets; instead we'll have our bags put on the train and buy a ticket on board."
"But Miss, where are we going?" the frightened girl asked.
"Well my little one we are going to Montana; if this guy had this and was willing to travel to Seattle to get laid, then there must be thousands more up in those mountains.
We're going to open our own house and you are going to get rich.
Lil packed her bags, putting the miners 10 bags of gold in three of them. She knew the knockout drops Sal laced her whiskey with would keep her and Bill out for about 8 hrs and a hell of a headache when they woke up. Lic Mee had far less to pack, but in Sal's room she found jewelry and perfumes that she wanted along with Sal's old corsets which would be useable once altered. The bartender was instructed and knowing his matron's temper was not about to intrude on her. Once he closed up, the two women brought their bags down stairs. They were just about to leave when a voice said "Where are you two off to?" It was Rita, a voluptuous redhead that had taught Lil a thing or two when she entered Sal's employ.
"Thank god it's you. We are breaking out, pack a bag and come with us."
"Sal isn't going to like this, she's going to whip your ass when she finds out!" , Rita descended the stairs and confronted Lil.
"I'm sure if I stay, I'll get more than a whipping. I have petty much made my bed, but have no intension of laying in it. You aren't getting rich working for her and I am not getting younger. If I am going to be a whore, I'm going to be a rich whore. So what's it going to be, suffer here or take a chance with me?" Rita stared into Lil's green eyes and saw a calm defiance. She knew that Sal's rage would be taken out on everyone around her; she had seen it before. There was no real choice given the alternative.
"I need to get dressed and get my stuff. While I'm upstairs get some bottles from behind the bar; I think a celebration is in order." Rita hit the stairs running. It took another hour for her to get packed and get her bags downstairs. The three women looked at the mound of bags and knew there was two much to carry without being obvious. They went to the carriage house out back and decided that one more small crime could get them into no less trouble. They hooked up Sal's mare to her carriage and loaded the bags in back. Lil told the others to leave through the front door like they were on a stroll. "Just act natural, say your good mornings, but don't waste time with idle chatter; we have a train to catch and it should be here within a half hour. I'll get the bags to the station then return the carriage, now get going"
Lil drove the carriage down to the station and put the bags on the ramp. The Station Master told her the Great Northern headed east was due in at 9:30 and asked if she wanted a ticket. "When's the train headed south to California due in?" She asked and was told 3 hrs later. "Good give me three tickets to San Francisco", she paid for the tickets and returned the carriage. As she was leaving, she passed the Police Chief.
"Morning Lil, care to start my day off right?" He said with a lecher's smile on his face. Lil's heart was racing. She wanted to get away, but knew that he had a deal with Sal and if she said "No", he'd head straight into the cathouse to complain.
"Sure Chief, you know I love serving you department. Let's do it in the barn, so as not to wake the house. What do you want, a quick head or something different?"
"Tell you what lets go back to that back stall, and I'll mount you like the stud I am."
Lil complied, there was no time for debate; she just wanted to get it over without acting as if she was in a hurry. She entered the stall, dropped her bloomers to her feet and hoisted her dress and petticoats over her hips. Her nicely rounded ass presented a pretty sight, framing her pussy as if it were a target. "Well stud, you ready?"
The chief wanted her, but his cock was not responding. She knew her time was running out and spun around. "Looks like you could use a hand or better yet lips, she dropped to her knees before he could respond and took his flaccid cock into her mouth. The response was immediate; she felt it swell and heard the chief moan with delight. She had hoped to just finish him off as she had done the night before, but he told her to stand and assume the position again. She did as told; there was no foreplay and she was neither aroused nor even moist when he drove his hardened cock into her cunt. It was almost more than she could do not to let out a scream, but it was not the first time some ruffian had abused her pussy in this manner; she just swallowed hard and hoped he'd be done soon.
The moisture finally came making the experience more tolerable, but as he humped her she saw her escape fading. The chief drew his cock in and out of her pussy with deliberate strokes as his balls slapped against her thighs. Each stroke re-penetrated her abused lips; his cock was wet with her juices when he suddenly drove it into her ass. She cried out as his cock went in but only once. "Fuck my ass Chief, fuck it hard and cum in it" She cried out, trying to end the ordeal. The Chief felt her tight ass grab his cock and had little control as to when to cum. It was over shortly after he entered her. As with most of her clients he pulled out rapidly having got his.
"I'll tell Sal what a nice job you did, when I see her tonight" the Chief said as he buttoned up his trousers.
"Thanks Chief, I'm sure she'll appreciate hearing that", now I have to run and get my errands done so I can get back here in time to work." She waved as she ran through the barn door. She could feel his cum running down her thigh as she heard the whistle of the approaching east bound Great Northern. She reached the platform only moments before the train. The other two women showed their concern on their faces, but she quieted them and said, "I had one last thing to do, sorry I kept you waiting, but our ride is here so let's get on board." The women stepped into the carriage car as Lil told the porter to load the bags. She tipped the station hand and took a last look at Seattle. She found the Ticket Master and explained that she had been sold the wrong tickets at the station. She told him that she and her companions were going to Libby Montana and asked for a private compartment; she handed him ten $10 gold coins and said "Will this cover the difference?" The Ticket Master knew he owed her money, but thinking he had the best of her, just nodded and put the gold coins in his pocket and gave her three tickets to Libby and showed the women to their compartment.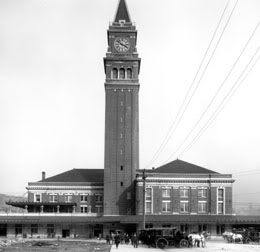 The three women had been up 24 hours by the time they settled in. The train jolted forward sounding its horn. Rita broke out a flask from her garter and passed it around, "Here's to our new life" The three women rotated the flask until it was dry. The drink and lack of sleep took over as one by one they fell asleep where they sat. The rocking of the train and clicking of the steel wheels on the track eased them into unconsciousness. Lil watched the others dose off and then closed her eyes. She dreamed of Sal and the miner and imagined their surprise and anger when they woke. She knew the Police Chief would find them that night and that they'd check the train station only to discover she had bought tickets for three to San Francisco. The Chief would wire the authorities there, but find that they had left the train elsewhere. In her sleep a smile of contentment found its way to her mouth.