"Libby, Libby Montana, Next Stop Libby!" Lil remembered how she had heard those same words a month before, when she Rita and Lic Mee had escaped from Sal and the Seattle whorehouse she ran. In one short month she had gone from whore, to wanted woman, to murderess of a sheriff, and finally to Madame Lil owner of the of the La Maison de l'A Sali des Colombes; a small but growing brothel in Libby Montana. Lil's partners had been working hard to prepare the former boarding house for its new purpose. The furniture she had purchased would take two more weeks to arrive by freight wagons and then her House of Soiled Doves would open its doors. There wasn't a man in Libby who wasn't eager to taste the fruits of the women who worked there; Rita was a curvy 30 year old redhead, Lic Mee was a 22 year old Chinese flower (and Sheriff Tommy Two-Tongue's favorite) and Lil, who at 23 was a rare beauty in this lifestyle. These women had attracted a crowd from day one, so having a parade of men following Rita and lic Mee to the train depot was not unexpected.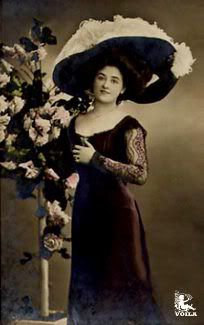 The train was almost an hour late pulling in and when it came to a halt each eye was on Lil's car. The conductor stood at the foot of the car's step and extended his hand. Lil's laced glove slid into the conductor's hand and she stepped down. A cheer came from the crowd as she waved to the miners, lumberjacks and trappers. She stepped aside and raised the gloved hand in a gesture of presentation as each of her four traveling companions stepped from the train. The first off was Mountain Marge Smith; she stood close to six feet tall, weighed about 200 pounds and was a 40DD in her corset. As she stepped down another cheer rang out, as well as cat calls with regards to her ample breasts. Dolly D was the next off; she wasn't as tall as Marge, but still ample and was willing to raise her skirts to make the men swoon. The young widow Mollie More stood in the doorway looking out on the faces of the crowd and her future. She was pale and had blonde hair; unlike the other women she was small and petite. She stood about five feet, two inches and her breast were at best a 36C. As the men stared, many imagined her to be that young girl next door that they had fantasized about while masturbating.
The men continued cheering and then Dark Penny came through the door and the crowd quieted. The Civil War had been fought 46 years earlier and many had left America's larger cities and southern states to find their fortunes in the mountains of Montana. Penny was the first woman of color they had seen (outside of Indian women) and her mixed origins (thought to be Irish, Portuguese and African) made her an exotic beauty in their eyes. She smiled at the men and a howl was heard from the crowd and then a unanimous cheer. Her 18 y/o body was relatively fresh, and each man envisioned the treats that might be found beneath her skirts. Those with memories of dark women with bright pink pussies were more excited than others.
The moment her foot touched the train depot landing the crowd swelled forward. It was then that Sheriff Two-Tongues stepped in and fired his gun into the air. "C'mon boys give the girls room to breath. He selected eight men to carry luggage and directed them to the brothel. The men carried the bags and followed the scented women into the house hoping for a tip that was other than a coin or bill. As each woman received her room assignment, she took her bags and gave her porter a kiss; a tip that stimulated still more fantasies and the desire for more at any price. The women went to their rooms to unpack while Lil caught up with Rita, Lic Mee and Tommy.
Once Lil had told them about her trip and what was occurring in Denver; Rita told her about (Little) Nell, Sheriff Geiger's adopted daughter. Lil listened as Rita talked about the 17 year old who had shown up at their door. "I don't think she's quite right in the head. According to Tommy, she was trained by Geiger from age seven to give oral sex and that her training became even more twisted as she got older; the man made her into his own personal sex slave and his wife left rather than prevent it. Once the wife inherited everything; she threw poor Nell out to survive on her own. I think you should talk to her"
Lil thought about her own upbringing and how her step father and brothers had used her in much the same way and agreed to meet her. Within minutes Rita returned with the timid girl in tow. "This here is Madame Lil; she is the final word on what we will do with you" With her introduction out of the way, Rita went to the parlor to see how many of the men who had brought the luggage still remained. The room was packed, and small fights were erupting over who would go next.
When Lil saw Nell, a shiver ran through her body as if someone had walked on her grave and indeed they had. Lil saw the girl she was and what would have happened had she not taken her step-fathers life. "Tell me about you, I want to know everything and don't be ashamed, shit happens"
The girl studied Lil for a moment; she didn't feel ashamed of her life, but felt like Lil knew, but just wanted to hear her say it. Nell explained that she had been orphaned when her mother abandoned her at an orphanage in Seattle. She had no memories of the woman that left her there, but very vivid memories of the man that took her away. He was an impressive man larger than life and he was the law where he came from, so he had to be good. He took her and an older boy back to his ranch outside of Libby, but his wife wasn't happy. The woman had been barren and unable to give him a daughter or son and now would be burdened with raising another's children. Geiger's wife had distanced herself from the children, but knew that her husband had more than a fatherly interest in the two. He had been looking for children for some time and was not ashamed of his motives; he would rescue them from an orphanage and in gratitude they would serve him, but the truth was he wasn't depending on gratitude. Geiger had what he wanted and would train them to obey his most perverted desire; there was nothing to prevent it.
She told Lil that he would visit her at night to read her bed time stories, but the stories always ended with him rubbing her; causing her to experience a variety of mixed emotions. First her foster brother witnessed the abuse and didn't know what to do or say. Then Mrs. Geiger walked in, but just as suddenly walked out. Nell was made to perform orally on him as he rubbed her. When Mrs. Geiger did confront her husband; he told her, "You are no longer needed" and she knew that her choices were already made. Because she saw herself as a Christian and good woman; she couldn't sit by and watch a child be raped, so she left. Nell said that Geiger never really hurt her, "He told me he loved me and showed me how to be a good girl. I learned that if I did as he desired that I would be rewarded and it wasn't so bad. Sometimes he'd touch me and make me feel this strange way; I can't tell you what it was like, but it felt good, even though I knew it was bad as I got older. Then on the day of the night he died, he got angry with me and hurt me bad" That was the day of the evening that Lil, Rita and Lic Mee sent him to meet his maker.
Lil listened and knew all too well what Nell had experienced. "Why did you come here child"
"Well, it wasn't my idea. When Mrs. Geiger sent me away from the ranch, I didn't rightly know where to go. I was just walking on the road with my bag when the Parson offered me a ride. I told him I didn't have money and thanked him for being nice to me like I thanked the Sheriff. He squirted in my mouth like the Sheriff, but then he got mad at me and brought me here. I don't have anyone or anyplace to go. The other ladies were nice to me and I can work if you let me stay"
Lil looked at the girl and knew she would be an asset if put to work in the brothel, but she also knew it wasn't too late to keep her from going down the same path she had. "You can do the cleaning and laundry for the time being and take a bed downstairs when everyone has gone home. I'm going to go talk to a couple of people, I think you just earned your keep for a lifetime.
Lil located Tommy Two-Tongues at the Sheriff's office, "That office fits you Sheriff Two-Tongues" she said having caught the sheriff asleep at his desk. "I have a request" Tommy sat up and motioned to Lil to take a seat. "Seems as though two of Libby's more respectable citizens have done some unrespectable things and I think we can benefit from their indiscretions." She went on to relate Nell's story.
"I always suspected the Sheriff was doing something to the girl, but his wife never said a word and Geiger had me in a hard place to accuse him of anything. Can't believe the Parson couldn't have stopped the girl before he came, but hell he is a man and I can't imagine his wife sucking his cock. What are "you" going to do and how are "We" going to benefit"
"Well, first you are going to accompany me to the Parsons house. You don't need to do a thing except sit there and look official; I'll do the talking. When I am done with the Parson the three of us are going to see Mrs. Geiger" Tommy listened and agreed to go along for the ride; he knew that when Lil set her mind that there was no stopping her. Tommy drove a carriage with Lil in it to the Parson's house, she had him go to the door and coax the Parson back to the carriage.
When the Parson saw the Madame of the brothel in the carriage he turned to Tommy in protest. "What is that whore doing at my house?"
"Don't worry preacher, I'm not bringing back the parcel you dropped off at my door. It would seem that you took advantage of the poor thing before setting her loose on my doorstep and I have come here to make a deal with you." Lil said, while watching the Parson's face turn crimson. His bluster cooled, but his anger grew.
"I did not take advantage of that girl, she was on me like a calf at its mother's utter, before I knew what was happening!"
"But she wasn't a calf and it wasn't her mothers utter that she was sucking on was it? I can guarantee it wasn't milk that came out of it either, just your cream. That girl weighs a third of what you do and you're telling the Sheriff and me that from the time she put her head down, undid your britches and began sucking to the time you came in her mouth that there was nothing you could do. Did you even attempt to pull her off?"
The Parson stammered as he tried to defend himself, but knew that he was caught. "So you are going to blackmail me, because I had a moment of weakness?"
"Ah is that what it was a "moment" of weakness. Well in that moment your cum trickled down a young girls throat, and a moment later she licked your cock clean; so I guess it was actually two moments. It makes no difference, the deed was done to one who had already been victimized by another authority figure; Sheriff Geiger was her adopted father and a villain for ten years. Worse yet was the fact that Mrs. Geiger knew and did nothing and then just threw the poor girl out after she inherited the ranch. Do you think that's right?"
"Well of course not, but the man is dead and buried, what would you have me do?"
"Grab your coat and Bible; you are going to show Mrs. Geiger the path to righteousness. In return we will keep this a secret, and close the house on Sundays. Now isn't that fair?"
The Parson grabbed his coat, hat and Bible and returned to the carriage. The odd threesome left for the ranch and on the way Lil explained the situation in graphic detail. "You are going to convince her that some restitution is in order. I want her to sign the Lost Paradise and Hotel over to me and in return her reputation will remain unsullied. You are going to tell her that what she did, was a sin punishable in heaven and that if revealed that she will be reviled by every good woman in Libby. If she complies then she can go about her life and people will think she was being generous to her husband's adopted daughter. When she complies we will be done with all of this.
They arrived at the ranch just before 4 in the afternoon. The Sheriff and the Parson went to the ranch-house door and Mrs. Geiger opened it without hesitation. The two men convinced her to come outside to discuss a matter with serious ramifications and she followed them back to the carriage. Like the Parson, she was shocked to see the Madame of the brothel in their company. "Why have you brought that libertine to my home?" She demanded an answer, but the two men stood mute. "I demand that you leave at once, before you are seen!" but her demand fell on deaf ears.
Instead, Lil stepped down to confront the woman eye to eye. "Mrs. Geiger, you might say that your return to this ranch was due to circumstances which I set in motion. Your husband was a brute, he underestimated my resolve and he met a just end. He took the innocence of Nell; the daughter he adopted while with you and the sad fact is you knew it was going on."
"I didn't want her here, it was his idea" the distraught woman protested. "You said it yourself he was a brute and I was afraid, that is why I left"
"But you didn't even try to rescue Nell; you just let him have her and have at her. Now she is a damaged child living at a whorehouse. What will happen to her if this comes out Parson?"
The Parson looked at Mrs. Geiger and flatly said, "You will be shunned by the entire community. For all of your money, you will have nothing and no friends"
"Sheriff, did Sheriff Geiger break any laws" Lil asked
"He was a rapist and sodomized a small child. I believe there are laws against that"
"And if someone knew about what he was doing?"
"Then they'd be an accomplice and just as guilty."
"What will it take to have this go away?" Mrs. Geiger begged
"You will sign away the deed to the Lost Paradise and the Libby Hotel; once I am in possession of those two properties, you will never have to worry that your secret will be revealed. I will care for Nell and you will not see her"
Though the two properties were income producers, they were hardly necessary. Mrs. Geiger signed away the deeds and delivered them to Lil who got in the carriage with the Sheriff and Parson and rode off without a word. Tommy dropped the Parson off and Lil said, "I can relieve many things, but not a guilty man's conscience; you will have to find a way to make peace with your god. When they got back to Libby Tommy dropped Lil off at the brothel. "We'll see you later Indian, I'm sure Lic Mee would like that; right now I need to plan our move."
Before he drove off Tommy turned to Lil, "You might want to explore the saloon and hotel with me. The Sheriff had some chambers built that you might not find without a guide. I will show you in the morning. All I can say is Geiger enjoyed hurting people, and made an art of it."
When she opened the door, she found Nell acting like a greeter, wearing nothing more than a waist cincher and bloomers. The girl had started to welcome the new guest when she realized who it was. "I'm sorry Madame Lil, but Rita told me to make myself useful and this was the only thing I was willing to do."
"Well I will have a new job for you in the morning, in the mean time cover up those beautiful breasts before these men think you are on the menu and decide to help themselves" For the rest tomorrow could wait; they were there to make money and they made money by giving men what they wanted.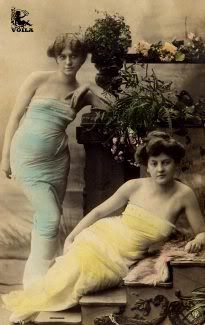 The next morning Nell woke early, just as she had everyday on the ranch, but now it wasn't to satisfy the Sheriff's early morning appetites. She went to the outhouse behind the brothel marked "Ladies" and relieved her full bladder, but as she began to dry the piss from her pubic hair she touched her clit. Her clit had been "His" and he would demand to touch it or have her touch it until she was on the verge of an orgasm and then stop or stop her; always leaving her wanting yearning to feel the release that an orgasm would bring. As she sat rubbing the throbbing clit, she remembered begging him and that is when he would negotiate a deal. "Rub it harder and press your finger over it; you will be able to cum when I have had mine!" She would do as told, while he unbuttoned his trousers and pulled out his cock. He would make her rub as he fed the cock into her mouth for her to suck on and she did suck. She could feel it swell as she worked her magic and yet her focus remained on her precious pearl. As his cock swelled in her mouth she bobbed her head on it while still rubbing her engorged clit and when his cock exploded in her mouth she came knowing that she had fulfilled his desires. These thoughts and memories raced through her mind as she let herself climax and then climax yet again. Even now "He" controlled her thoughts just by being in them, as well as her orgasms.
When she left the outhouse, she returned to the brothels kitchen and started a fire in the wood cook-stove. While the wood began to burn, she went to the hand-pump on the sink and filled the coffee pot. She found the coffee in the cupboard and scooped it into the percolator trap and then returned it to the stove. "You rise early" a man's voice said and she was startled. She turned to find Tommy Two-Tongues standing in the door.
"I didn't hear you come in" she said in an almost inaudible voice. "Have you been there long?"
"Oh, I've been here a while. I was making my rounds when I saw you walk out to the john. I figured I better hang around so none of the local trash would bother you. You were in there a while and I got concerned, so I stood outside the door and I could hear your moans. At first I thought you were hurt, but then heard you as you came and realized you were relieving yourself in more than one way, so I stood back. I got to tell you, the thought of you playing with yourself had me real excited; in fact I'm still hard." He said as he drew her attention to the bulge in his pants. "Lil and I have a deal about the girls here; I get what I want and she and her girls don't get bothered by anyone. Sheriff Geiger told me that you would suck his cock so I bet you wouldn't mind sucking mine."
Nell watched as he began unbuttoning his pants and became wet once again. She had been conditioned to climax while sucking and now associated Tommy's cock to her tormentor's. He brought his cock out and forced her to kneel in front of him.
"This will be our secret, because I don't want Lic Mee to become jealous of you" he told her as he slid his cock into her mouth. She took the uncut cock into her mouth sliding the foreskin back with her tongue and lips. As he brought his hips back and forth thrusting the cock into the girls mouth; he held her head. She could feel the juices from her cunt slowly run down her leg. She couldn't touch herself, but she thought about nothing else and as he fucked her; her clit responded. Tommy's cock exploded in her mouth and as it did she thought about the sessions with the dead sheriff and came too. "Geiger was right, your mouth is heaven. You did good girl, now go wash up before the whores wake up."
Nell had swallowed the cum as it had flowed into her mouth, but the trickling fluid leaving her cunt needed to be cleaned up. So as Tommy took a rag to wipe down his (now flaccid) cock before putting it away; she went to the "bath" room upstairs to bathe. Tommy sat with a grin on his face thinking about the turn-around in his life as he used the same rag to remove the coffee pot and pour a cup of coffee. Just weeks ago he had been the Sheriff's henchman and now he was the Sheriff; getting the same benefits Geiger had gotten, even the 17 year old former sheriff's daughter's mouth. "What are you grinning about injun" Lic Mee said as she and Lil entered the room. "Did you make coffee; I can use a cup of that"
Tommy, let the smile relax and said, "Nah, I think the Sheriff's daughter made it, she was leaving the room as I came in and I was thinking how nicely things had turned out. Lil, you girls have your coffee and get dressed so we can tour your new properties; I want to show you the dungeons that come with the saloon and hotel." He was excited, like a boy wanting to show his mom his favorite things.
"Dungeons?" Lil asked. She had read about them in stories and history books, but those were in Europe. She had never thought about anyone in this country having a dungeon or torture chamber, but as she thought about the former Sheriff; it made sense. "Give us some time to wake up and get ready. We'll meet you at the Lost Paradise at noon after everyone's awake, in the meantime you might want to button your britches" she said pointing to the two unfastened buttons. Tommy almost spilled his coffee trying to get to the buttons.
"Guess I forgot to button up after I used your john this morning, wouldn't want to have my cock catch cold though, thanks. I'll see you ladies at noon" he said as he exited out the back door.
Nell returned a little surprised to see Lil and Lic Mee "Is the Sheriff gone?" she asked.
Lil looked at Lic Mee, and said "I thought you were gone before he got here"
"Oh no mam, he surprised me while I made coffee and then I left" The girl said, remembering to keep their interlude a secret.
"Fix us some breakfast while we bathe; as soon as everyone is up we'll go see what I got as a reward for keeping you." Lil said. She was excited about taking over the hotel and saloon, but Tommy's news about dungeons, opened up a flood gate of other thoughts.